(HBO) – As the COVID-19 pandemic has been gradually controlled, more and more tourists have chosen Son Thuy commune in Mai Chau district as a destination for their holidays, with the number of visitors to the locality since the beginning of this year estimated at 20,000.
With the locality's exploitation of its potential and available advantages to develop ecological, community-based and experience tourism, Son Thuy promises to become an ideal destination for tourists to explore ethnic cultural identities, and enjoy the beautiful natural landscape of the northwestern mountainous region.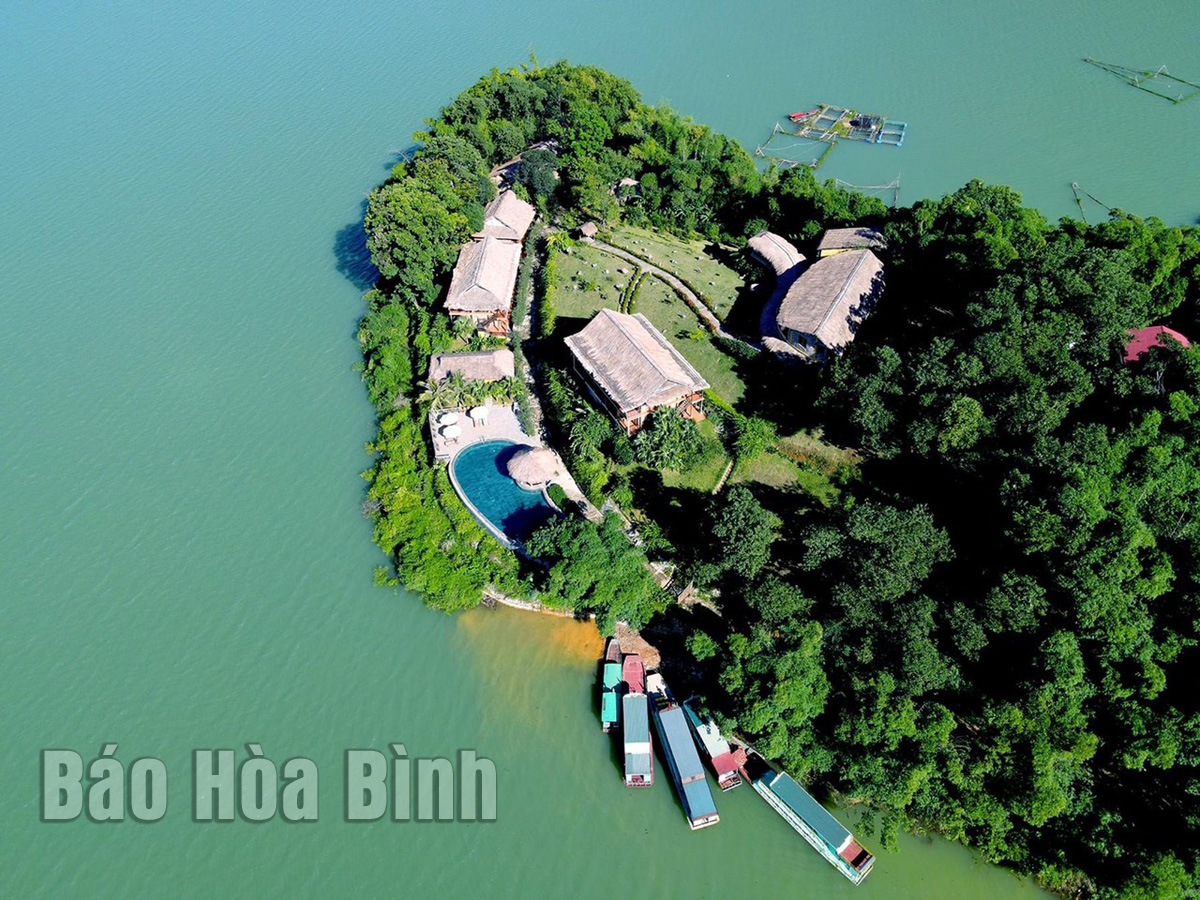 A panorama of Mai Chau Hideaway Lake Resort in Suoi Lon hamlet, Son Thuy commune (Mai Chau)
Son Thuy commune has five hamlets adjacent to Hoa Binh lake, whose advantages are unspoiled natural landscapes, fresh and cool climate, and convenient transport. It is also home to the Muong, Dao, Thai, Mong, Kinh and Tay ethnic groups, creating unique features, customs and habits of each ethnic group in terms of cuisine, cultural lifestyles and costume.
In addition to focusing on exploiting the strength of ecotourism, many households have invested capital in improving facilities and building community-based tourist sites. The commune currently has seven households involved in homestay service in Suoi Lon, Khan Ha and San Sop hamlets. Visiting here, tourists can learn about cultural identities and traditional customs and habits of ethnic groups; visit caves, experience kayaking and trekking; and enjoy local dishes.
Bui Van Dong, Chairman of the commune People's Committee said: "Making the most of potential and available advantages to develop tourism into a spearhead economic sector has helped raise people's incomes and promote economic development. In the coming time, the commune's Party Committee and authorities will continue to strengthen the promotion to attract more investors in tourism development".
He expressed his hope to receive funding to upgrade essential infrastructure systems such as electricity, roads and water for daily activities, and create more unique tourism products, attracting tourists to visit and experience./.