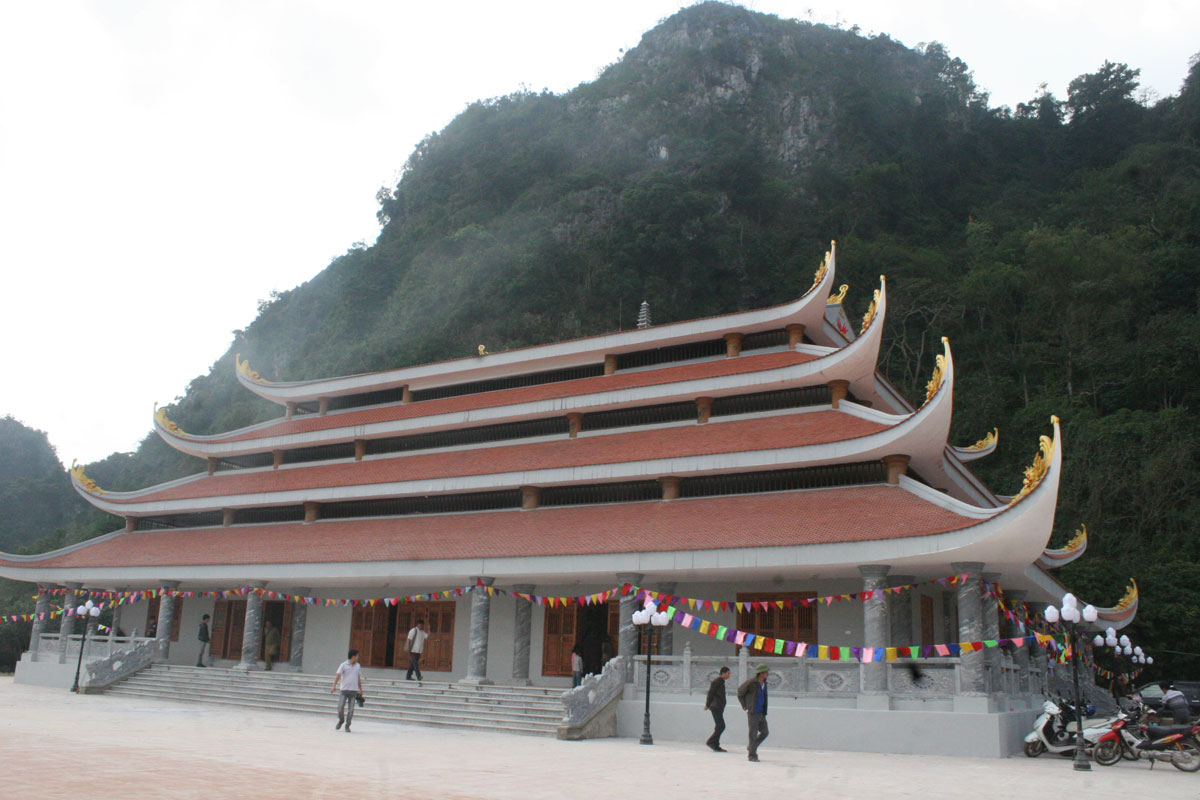 (HBO) - In the afternoon of December 22, the People's Committee of Lac Thuy district held a conference to summarize the work of festivals and tourism in 2022, and to implement festival and tourism activities in 2023.
Being a district with a geographical position and favorable natural and social conditions for the development of eco-tourism, scenic tourism in combination with spiritual tourism, in Lac Thuy, currently there are 6 national-ranked monuments; 11 provincial-ranked relics, 64 points according to Decision No. 2571/QD-UBND dated on November 2, 2022 of the Provincial People's Committee on the list of inventory that need protecting. In 2022, due to the complicated development of Covid-19 epidemic, the festivals were not held in the district, however, the relic sites are still open to welcome visitors and tourists and they have strictly complied with the commitments to prevent the epidemic. The district continues innovating the propaganda and promotion of Lac Thuy tourism images on the social network system. The security, traffic safety, explosion prevention, environmental sanitation and goods and service business have been ensured.
In the whole district there is 1 management board of the district-level relic, 36 groups protecting and managing the relics at the ranked historical, cultural, and scenic spots. The management boards of the district-level relic sites and the groups of protecting the relics at the levels of the commune, village and residential area have developed the operational regulations and rules for the relic protection. In 2022, the tourism area of Tien Pagoda and the historical site of the money printing factory have attracted about 35,600 turns of visitors with a revenue of over 2.5 billion VND and over 400 million VND has been transffered to the state budget. 
Regarding the direction and tasks of the festival and tourism management in 2023, the District's People's Committee has set the following objectives: Promoting information, propaganda and introduction about Lac Thuy tourism; developing the plans ensuring safety and diverting traffic at the tourism attractions wih a large number of visitors such as Tien pagoda, money printing factory; developing plans for fire and explosion prevention and fighting at the tourism attractions; organizing propaganda and signing the commitments about food hygiene and safety with business and service establishments during the festive season; arranging the garbage collection at the tourism attractions; strengthening inspection and control before, during and after the festivals...
At the conference, the draft script for the organization of Tien Pagoda festival and the program for organizing holidays and offering incense at the monument of the money printing factory have been approved.