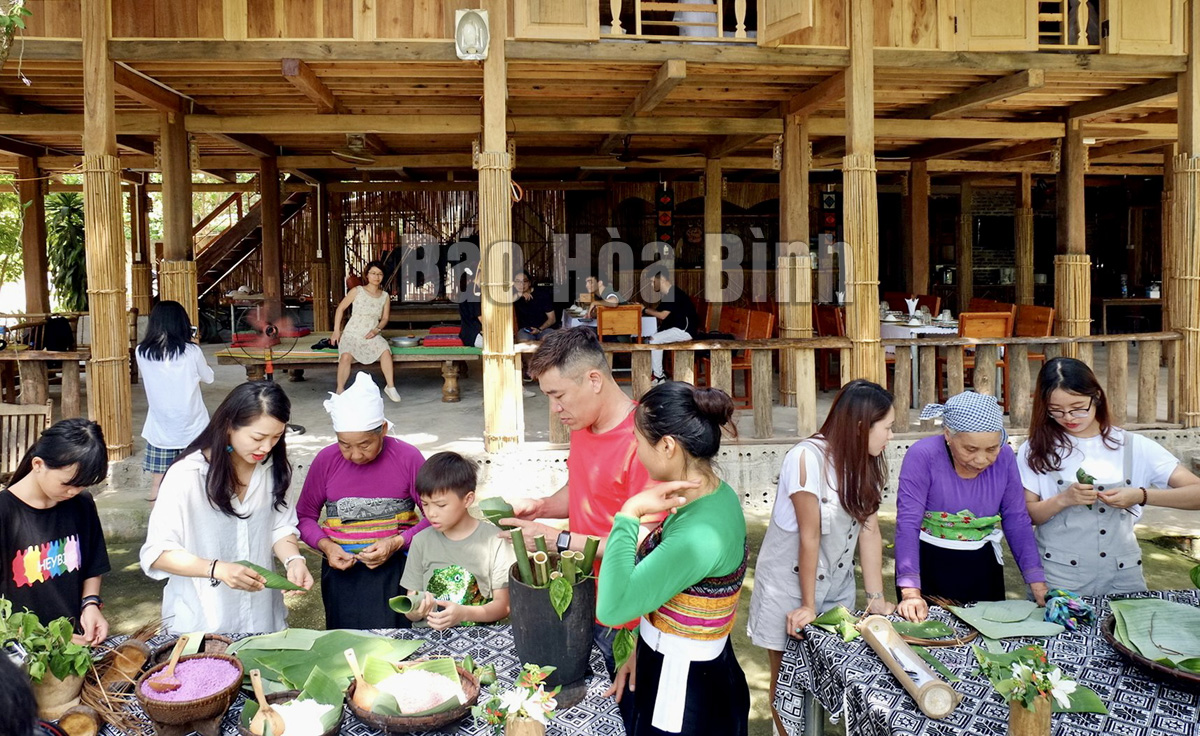 (HBO) – Since the beginning of this year, Hoa Binh province has welcomed a large number of tourist groups, including domestic and foreign tourists. New tourism products have been built while existing ones have continued to be improved in terms of quality. Some districts engaging in spiritual tourism such as Da Bac, Lac Thuy, Cao Phong and Tan Lac have resumed normal activities at historical relics and worship sites. These moves signal a positive recovery for the province's tourism industry in the first months of the year.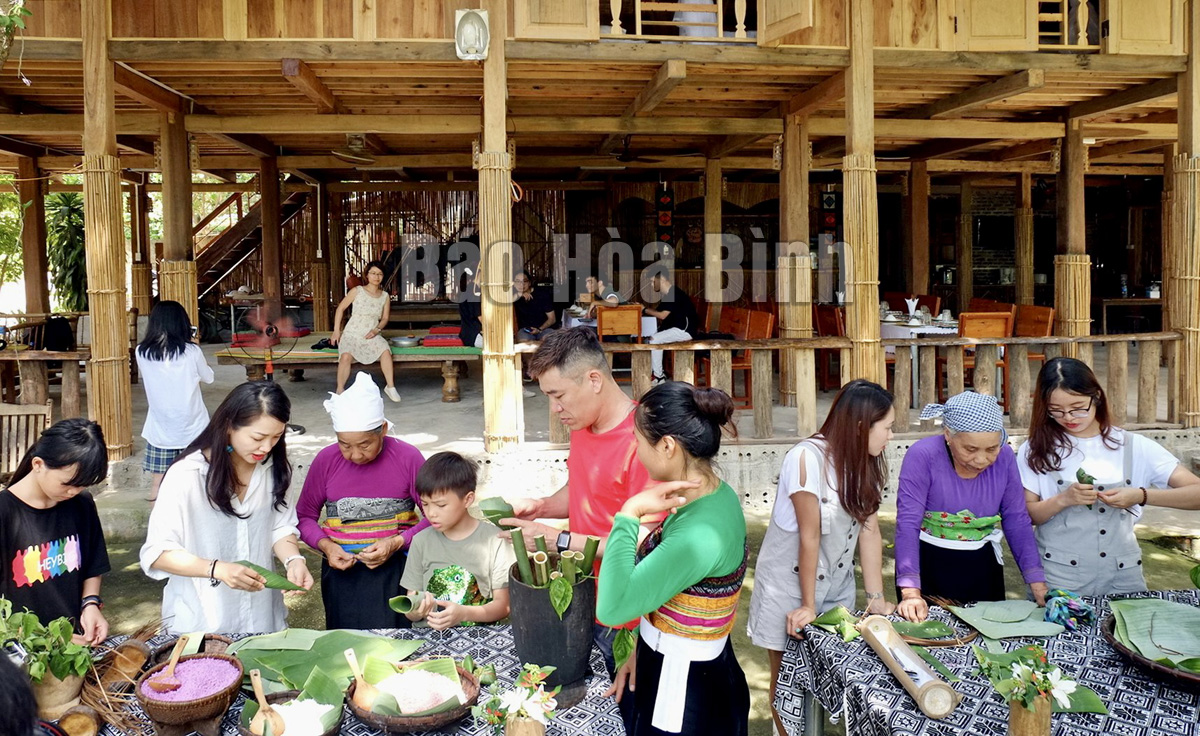 A community-based tourism site in Hich 1 village, Mai Chau district's Mai Hich commune, attracts visitors who want to experience products and services bearing Thai cultural identity.
Mai Chau tourist area is a popular destination for domestic and international tourists to make spring trips. Le Hoang Thao Nguyen, a teacher at Kim Lien High School in Hanoi, said a delegation of teachers and students from her school just had a wonderful and meaningful trip to Mai Chau. During the journey, they stopped at Mai Chau Flag Tower to admire the scenery, stayed at a homestay and visited community tourism villages. Nguyen said they really enjoyed the peaceful atmosphere of the Thai ethnic minority people's village.
Hoa Binh Lake is also an exciting tourist spot for travellers. Visitors often travel in a group of 20-40 people. The most popular attractions include community-based tourism villages in Tien Phong, Hien Luong and Cao Son communes in Da Bac district, Suoi Hoa communes in Tan Lac district, Binh Thanh, Thung Nai communes in Cao Phong district and lakeside resorts in Son Thuy commune in Mai Chau district.
Catching the visitors' demand, all districts and cities in the province have organised cultural and sports activities as well as festivals to serve tourists and local residents.
Notably, the Khai ha (going down to field) festival, the biggest traditional event of the Muong ethnic group in Hoa Binh, took place at the provincial level for the first time from January 27-29 (the sixth to eighth days of the lunar new year).
The province currently has 462 accommodation establishments, nine local tourist spots including a provincial-level site, and seven travel firms.
According to Bui Xuan Truong, Deputy Director of the provincial Department of Culture, Sports and Tourism, to realise the 2023 tourism development plan, Hoa Binh will mobilise capital from various sources to invest in infrastructure, preserve historical and cultural relics, scenic spots and upgrade electricity, water systems and communication infrastructure in some highland communes with tourism potential. Tourism promotion in key markets will be strengthened along with active participation in domestic events as well as through mass media. Cooperative activities in tourism development and training of professional human resources for the tourism sector will be boosted.
It is estimated that the province will welcome 1.45 million visitors in the first quarter of 2023, up 64.2% year-on-year, reaching 41.4% of the yearly plan. Of these, foreign visitors are estimated at 90,000, equivalent to 20% of the year plan and domestic tourists at 1.36 million, or 44.6% of its plan for this year.
Total revenue from tourism activities is estimated at 1.2 trillion VND (59.3 million USD), an increase of 33.6% over the same period last year, accounting for 30.8% of 2023's plan. The province aims to receive 3.5 million visitors this year, including 450,000 foreign visitors./.