(HBO) – Kayaking on Hoa Binh Lake, breathtaking landscapes, and a kaleidoscope of ethnic cultures are among the attractions that Hoa Binh province has offered to visitors far and wide.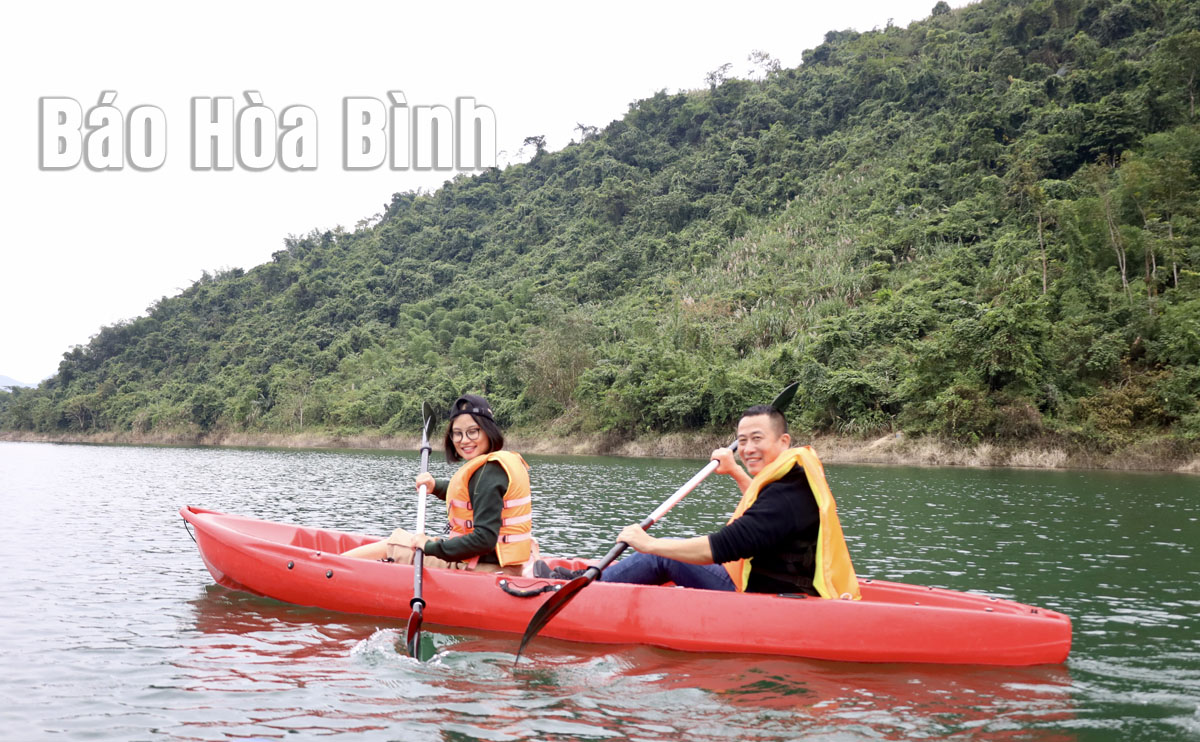 Kayaking on local lakes has become popular among visitors.
Starting from Hoa Binh city, it's about 30-kilometre drive to Kim Boi district, where various tourism sites lie in their scenic beauty. Visitors will find their trips complete as they enjoy pristine landscapes and fresh air there.
High-quality resorts such as Serena Kim Boi in Sao Bay commune, An Lac Ecofarm Hot and Springs in Vinh Dog commune, V'Resort in Vinh Tien commune, and Kim Boi hot spring tourism sites are filled with crowds of visitors during weekends, summer and public holidays.
Mai Chau tourism site, boasting tranquil ambiance and excellent Thai ethnic culture, is a must-visit destination in Hoa Binh province. Other attractions within the tourism site include Mai Chau flag pole, Ba Khan valley, Thung Khe pass, Mo Luong cave, Go Lao waterfall, Hai Son mural village, and many community-based tourism villages such as Lac in Chieng Chau commune, Nhot in Na Phon commune, and Pom Coong in Mai Chau town.
According to Ngan Van Tuan, head of the district's division of culture and information, Mai Chau has become a magnet for both domestic and foreign visitors thanks to its stunning landscapes and diversity of ethnic cultures.
Along with community-based tourism sites developed by Thai and Mong ethnic minority people, many three and four-star resorts and tourism sites have been formed, and become "hot" destinations in the North, including Avana Retreat, Mai Chau Hideaway, Mai Chau Ecologde, and Ba Khan Village resort, among others, he said.
Visitors should not miss the opportunity to discover Hoa Binh Lake, which was recognised as a national tourism site. It showcases nature's beauty with hundreds of islets together with a system of caves with unique stalactites.
A visit to Hoa Binh Hydropower Plant, a paddleboat tour on Hoa Binh Lake, and experiences of Muong and Dao ethnic cultures are on offer at the tourism site, which is home to Dua (Coconut) islet resort tourism site, Mai Chau Hideaway, Ba Khan Village Resort, and many community-based tourism sites such as Da Bia in Tien Phong commune, Ke in Hien Luong commune, Sung in Cao Son commune, and Mo in Binh Thanh commune.
Pham Thi Tra My, a visitor from Hanoi, said she was impressed by the magnificent landscapes at Hoa Binh Lake which is often referred to as Ha Long Bay on land, as well as local hospitality.
"For those reasons, I will come back to discover further cultural straits of Hoa Binh Lake tourism site", My said.
Hoa Binh province has developed a wide range of fascinating tourism products to lure visitors over the past time, with highlights being paragliding experience in Quang Tien commune, golf tourism in Ky Son ward, Luong Son district, and high-end resort tourism.
Additionally, the province has organised an array of activities to promote local images, given priority to branch out tourism infrastructure, and paid due heed to preservation of local cultures.
Since the outset of this year, Hoa Binh has welcomed 2.36 million tourists, and gained some 2.3 trillion VND (nearly 95.6 million USD) in tourism revenue.
The province targets to serve 3.5 million tourists, including 450,000 foreigners in 2023. It expects to earn 3.9 trillion VND from tourism services.