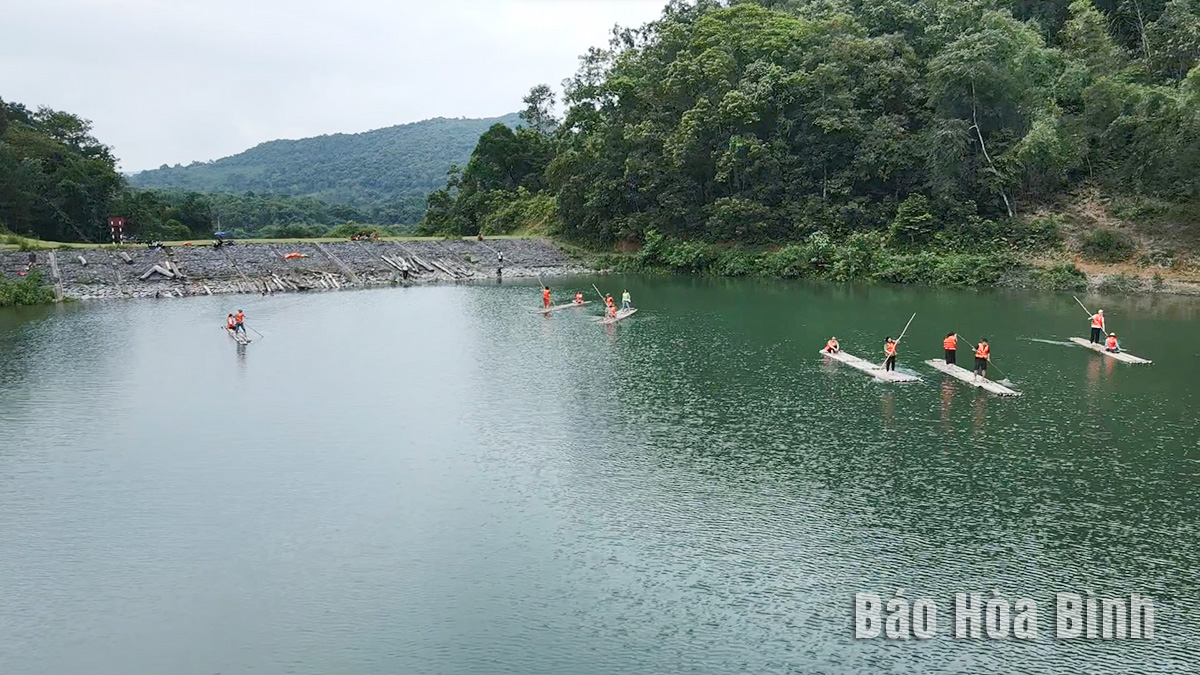 (HBO) - As a locality with much potential for tourism development, Nhan My commune (Tan Lac) is making efforts to gradually turn tourism into one of the local strengths. From there, they have been exploiting the potential and advantages for socio-economic development, creating jobs, and contributing to improving the people's lives.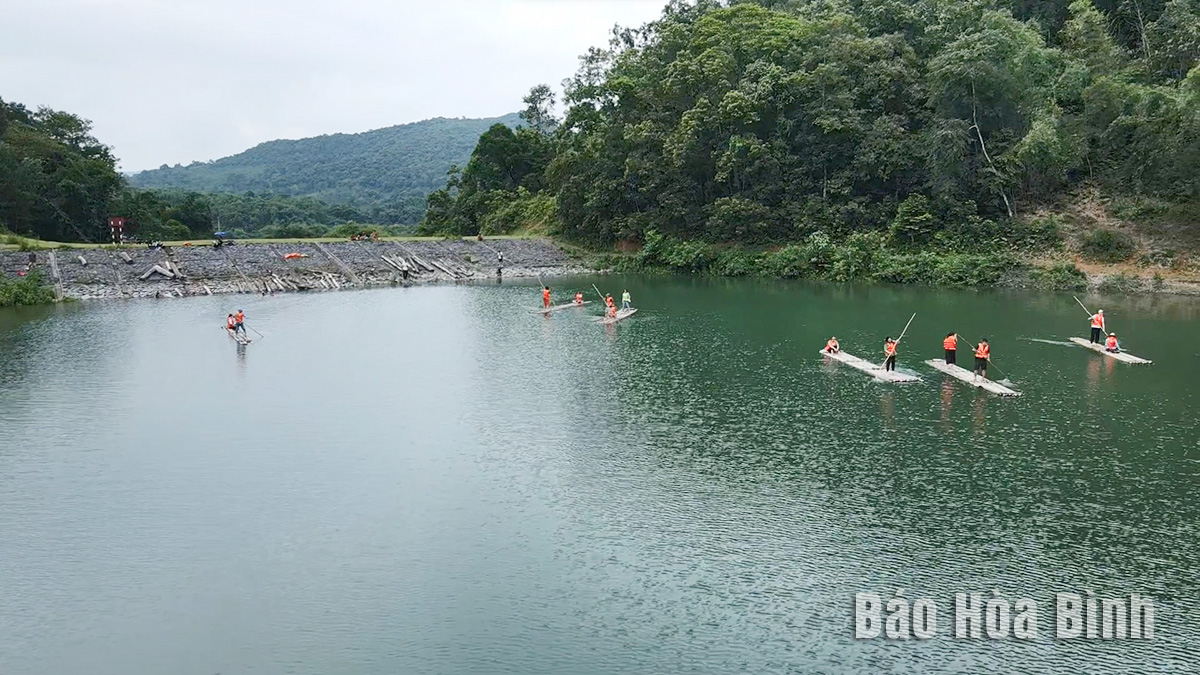 Rafting on the U Ta dam in Nhan My commune (Tan Lac) is loved by tourists because of the wild beauty and fresh, cool air.
In the commune, there are two provincial-level scenic relics: Muong Bi Flagpole Mountain in Hong Thong hamlet and Moon Waterfall located at the foot of Bo Bui mountain in Trang Ta hamlet. In addition, the commune also owns many places with beautiful scenery, still preserving the wild and majestic beauty such as U Ta dam with the wide scenery and fresh, cool air. Recently, in Khi hamlet, another gift from nature has been discovered. That is Pua Bo waterfall and Tai Khoi cave with 2 several-ten-meter-deep caves. Along with Muong village, which still preserves its traditional features, this mountain village is an attractive destination for tourists who love exploring.
With great potential, developing local tourism helps create more jobs for the local people and reduce the rate of unemployed workers. Many jobs relating to tourism services such as tour guides, restaurant and hotel staff, craftsmen, and production of local products help significantly improve income and improve people's lives. Visitors coming here will experience and learn about the culture and customs of the local community through the activities such as participating in activities, working with people, and enjoying the local cuisine.
Recently, tourism activities in Nhan My commune have changed positively. The commune has been focusing on conversing and preserving the unique cultural features and typical customs and habits of Muong ethnic people. Promotion, planning, investment, and management of tourism activities are increasingly promoted. Many models of tourism service business have been invested in. It has a variety services of food - sleeping - accommodation, bringing the best experience for tourists. A typical example is the Un House homestay in Muong Da hamlet.
Being built in 2022 with a total investment cost of about 4 billion VND, the homestay exploits the available tourism potential such as streams and waterfalls, original landscape, and many unique local cultural features. In 2022, the number of visitors coming here is not large. In 2023, thanks to strengthening promotion in the media, tourists started about the homestay and they arrived here to experience significantly. On average, Un House welcomes about 30 guests a day. In July, the peak ripe rice season, it welcomes up to 65 - 70 visitors a day. The diverse service activities include sightseeing, relaxation, dining, entertainment, cycling, campfire, waterfall play, boating...
Mr. Bui Van Tan, the Vice Chairman of. The People's Committee Nhan My Commune says: For tourism to truly become a key economic sector, it is necessary to create a favorable environment to attract investment in tourism. The commune actively preserves and develops the traditional cultural activities such as festivals, singing and dancing, and ethnic music. It is necessary to invest in transportation infrastructure, electricity and water systems along with the environmental management to make good use of the local natural landscape. It is important to build the diverse tourism products to attract tourists such as: organizing exploration tours, mountain climbing, waterfall bathing, rafting, kayaking on U Ta dam or experiencing the local culture and cuisine. It is suggested creating the images to attract tourists, taking advantage of communication channels and information technology to promote to tourists inside and outside the province.