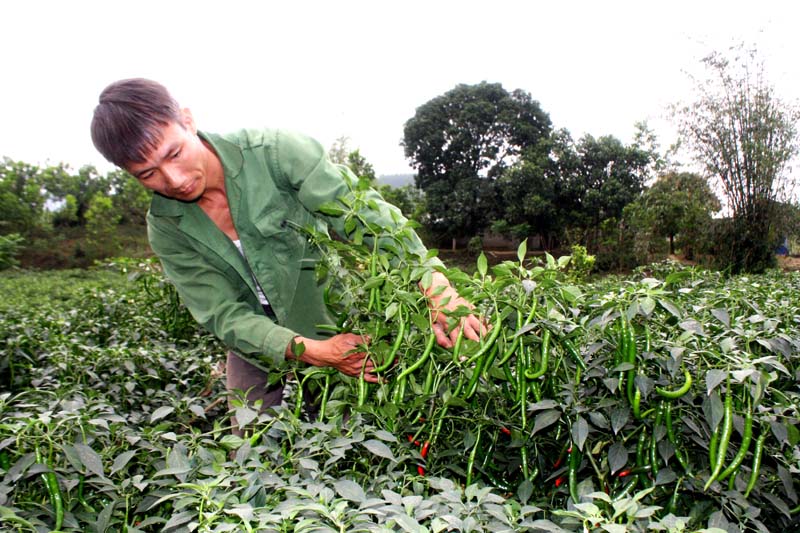 (HBO) – Good earnings from the cultivation of chilli plants have helped people in An Lac commune (Lac Thuy district) find the answer to the question of what plant is best for them.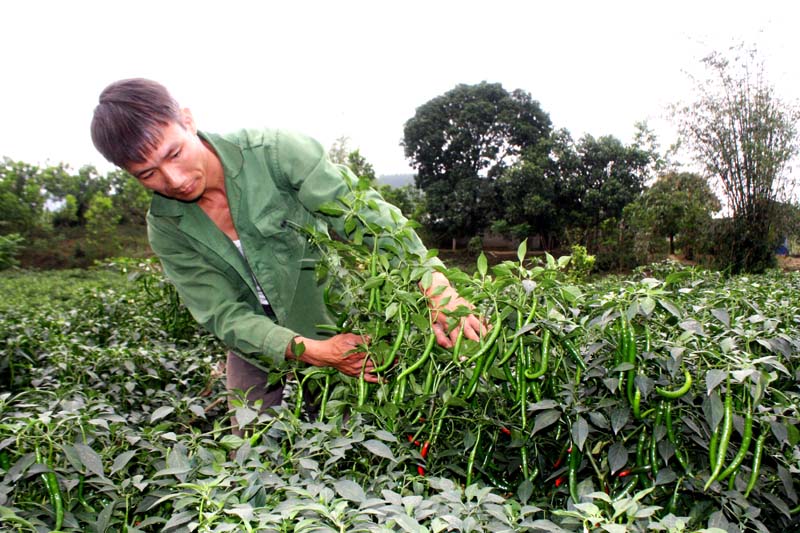 Bumper chilli harvests brought joy to Pham Hung's family and the chilli growers in An Lac's An Phu village.

Quach Cong Ninh, Chairman of the An Lac People's Committee, said that following good earnings of the first crop, local farmers expanded the area under the plant from 3 to 5 hectares. Chilli plants grow healthily, offering stable output, so everyone is very optimistic.

We accompanied Vu Ngoc Thuong, a local agricultural official, in a visit to a model garden of growing chillies for export in An Phu hamlet. Chilli plants in the 1,140 m2 garden of farmer Pham Hung were laden with fruits, ready to be picked. Hung grew the hybrid chilli No. 7 (a hybrid chilli type of Chian), which yields finger-sized fruit and matches the soil of An Lac. Hung said: "In the first crop, we cultivated 720 m2, but only half of the area bore fruit, as we lacked technical knowledge. This crop, we doubled the plantation scale. Now we have experience and knowledge, and our chillies have grown two or three times faster compared to last year."

"When we master the technique, it is not difficult to cultivate the plant," said Hung. "The most important thing for us is there is a company that provide us with seeds, technical support and buy our chillies. If market prices increase, the company will raise their purchase prices, but when market prices are low, it keeps the price at at least 5,000 VND per kg. At that price, growing chilli plants is already much more profitable than planting corn and cassava."

From the beginning of the year, Mr. Hung's family has had two bumper harvests, and sold the fruit at between 5,000 to 6,000 VND per kg. With an average one harvest every six months, each chilli plan can yield over 2 kg of fruit.

Apart from Hung's family, An Phu also has 9 households growing chilli. "Employees of Chili Vietnam Ltd. (which signed contracts with local chili growers) regularly check and provide technical support to farmers. If diseases occur, farmers will report to the company for prompt measures. In addition to An Phu, some other hamlets in the commune also have potential to follow the model," said Vu Ngoc Thuong.

"Chilli plants are suitable to local soils, thus output and earnings are guaranteed. In the 2018-20 winter crop, An Lac will expand the total area under the plant to 10 hectares. In addition to citrus farming, we have concluded that chilli trees would help people secure a stable source of income at home," stressed Quach Cong Ninh, chairman of the An Lac People's Committee.