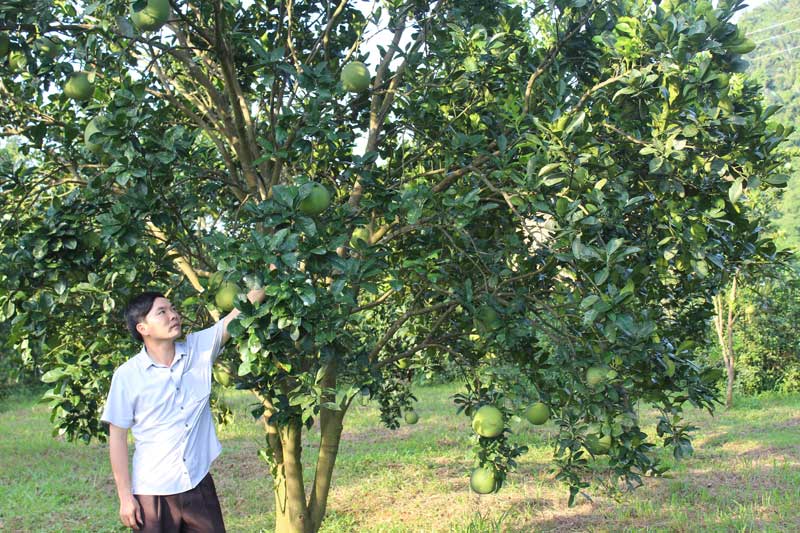 (HBO) – From the new style rural area programme's production development fund, Kim Boi district has carried out three projects to branch out production in value chain since 2017.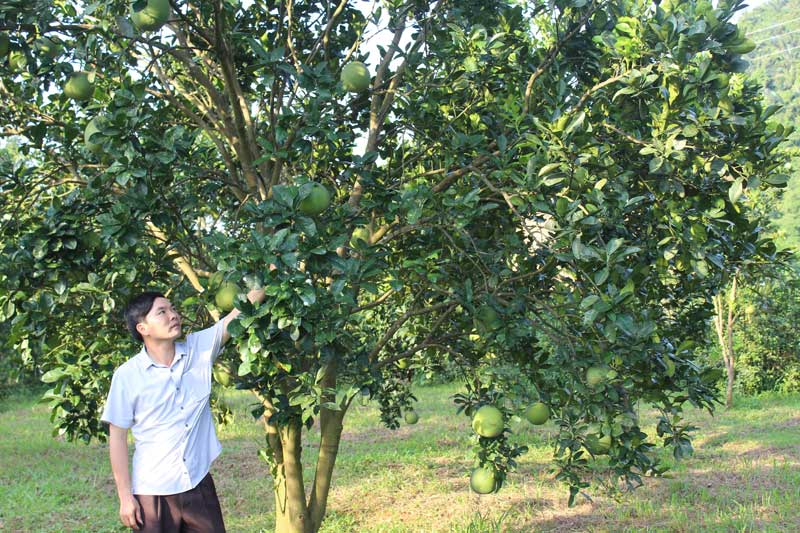 Photo: Citrus cultivation and consumption project, covering 125 hectares of land in Kim Boi district, has shown high economic efficiency

.
Those projects include a safe vegetable cultivation chain, a citrus cultivation and consumption chain and a sweet corn plantation and consumption chain. They are implemented at a total cost of more than 14.8 billion VND using the new style rural area programme's production development fund.
The safe vegetable growing project, with an investment of 1.5 billion VND is carried out in 10 hectares in Nam Thuong and Ha Bi communes, drawing the participation of 55 local households. Ha Bi agriculture service cooperative is responsible for the cultivation process while the Vinh Tien agriculture cooperative is in charge of selling the products.
Under the project, irrigational and power systems were constructed to serve vegetable production on 2.6 ha of land in Ha Bi commune. The district budget financed the costs of seedlings and materials for vegetable cultivation and six training courses on safe vegetable plantation. Meanwhile, the provincial budget supported the construction of tanks to collect empty containers of plant protection drugs.
Thanks to the project, productivity surged 10 percent while local farmers earned more than 30 million VND in profit.
Regarding the sweet corn production project, My Hoa agriculture production cooperative is in charge of cultivation while the products are consumed by Dong Giao import-export company in Ninh Binh province. A 523m road was concretised in My Hoa commune to ensure sufficient technical standards for the following crops. The road was built at a total expenditure of over 475 million VND, 300 million of which came from the project and the remainder was contributed by local residents.
In the spring crop 2018, the sweet corn will be planted in an area of 100 hectares while 50 hectares will be cultivated in the summer-autumn crop.
The citrus production and consumption project is carried out in 125 hectares in Tu Son, Du Sang, Vinh Tien and Binh Son communes. Muong Dong agriculture and trade cooperative cooperates with the Hanoi Agriculture Production and Processing JSC and the Vietnam Chuan Nong Company to carry out the project. The project held training courses to enhance capacity of the cooperative's members and involved farmers, and provide support in ensuring food safety during post-harvest processing as well as in promoting product sales. Total budget for the project was 12.8 billion VND, 300 million VND of which was sourced from the project, 50.5 million VND from the cooperative and 12.5 billion VND mobilised from the cooperative's members