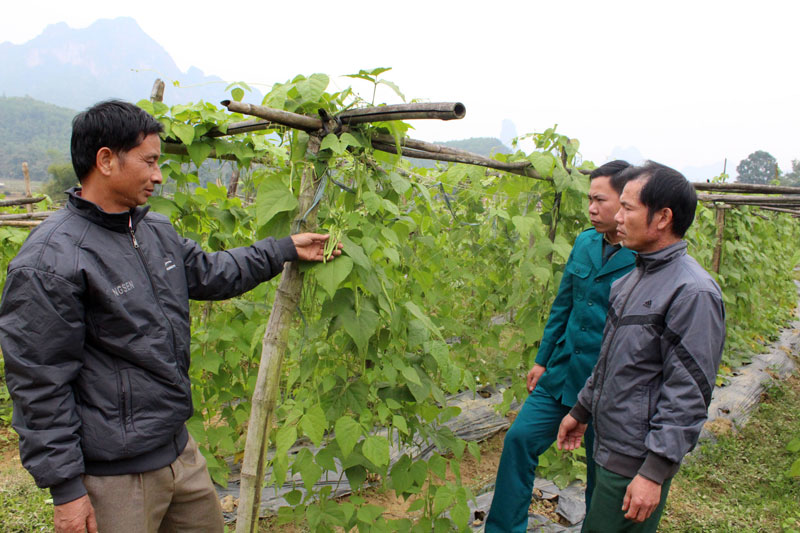 (HBO) – Many officials and Party members have taken the lead in agricultural activities, encouraging a strong and fruitful crop restructuring movement in mountainous Doc Lap commune, Ky Son district of Hoa Binh province.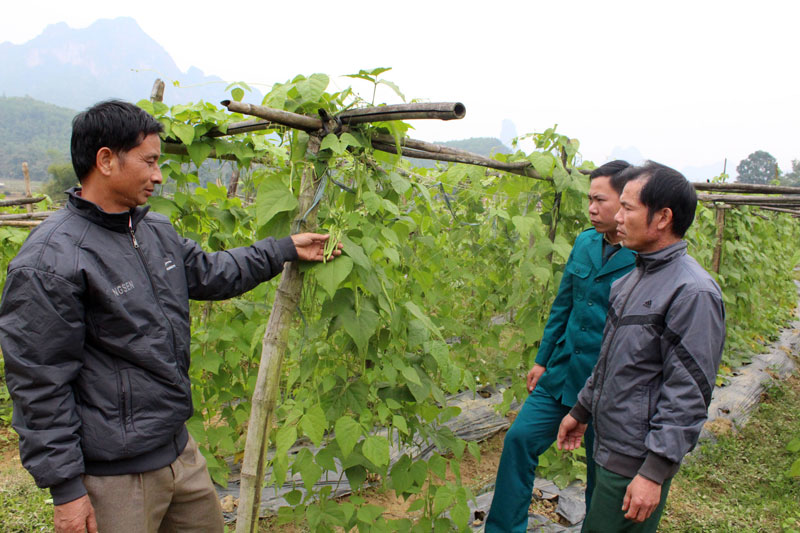 Nguyen Van Nang (left), head of Noi hamlet in Doc Lap commune (Ky Son district), directly instructs local farmers how to cultivate vegetables according to clean production standards in the fields.
Tran Dai Nghi, a resident in Noi hamlet, said his family used to have 2,000 sq.m of rice farming land which was ineffective. Complying with the resolution of the hamlet's Party cell and with the guidance of local officials and Party members, his family switched from ineffective rice cultivation to farming other crops. Last year, aside from farming wax gourd, they also grew an overlapping crop of French bean. Their products were sold well as they met the market demand.
Apart from about 80 million VND (nearly 3,500 USD) in wax gourd sales, his family also earned more than 10 million VND (440 USD) from French bean, thereby helping to improve their lives.
He added many people in the hamlet have also successfully converted ineffective rice farming land, thus gaining stable income and promoting their living standards.
Secretary of the Doc Lap communal Party Committee Nguyen Hong Binh said crop restructuring has become a strong movement in not only Noi hamlet but also in all hamlets across the commune. In this movement, officials and Party members have continually played a key role in instructing farmers to follow clean production standards right in the fields, and they have become true "teachers".
As a result, instead of rice monoculture like in the past, Doc Lap commune has cultivated new crops and gained initial encouraging outcomes. Local income has increased by six or seven times from that generated by rice farming. Wax gourd is an example, he said, noting that the wax gourd area has been expanded to over 22 hectares across the commune so far.
The areas of other types of vegetables and beans have also reached tens of hectares. Notably, local farmers have planted new crops like lemongrass and galingale with expanding areas, initially generating economic benefits and improving people's lives.
Thanks to effective crop restructuring, there have been many households with income of up to 100 million VND annually in Doc Lap commune, thereby contributing to poverty reduction, Binh said./.