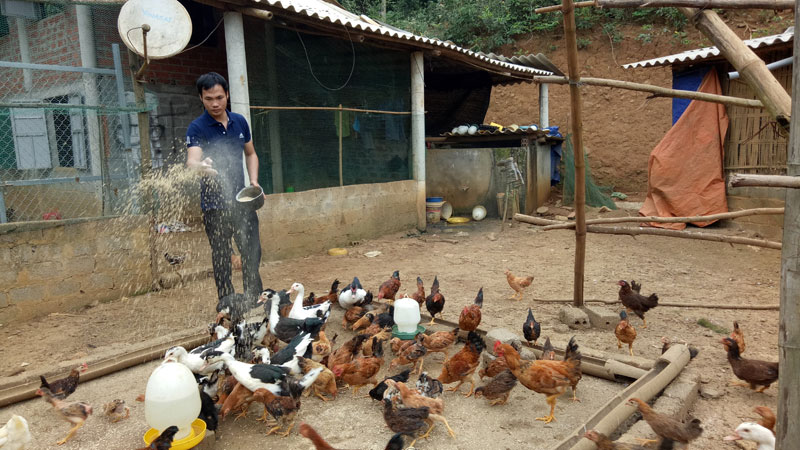 (HBO)- This is a young man named Tien Dat Bui, who was born in 1993 at Lau hamlet, Tan Lap commune (Lac Son district).
Growing up in poverty and in a farmer family of four children, Dat who is the youngest child were very studious. Because his father died soon, only his mother raised four children until they finished in college. Graduating high school, Dat applied in a Crops program, the faculty of Agronomy, University of Agriculture.
Starting from nothing, Dat decided to build a poultry farm after years of studying and researching from experiences.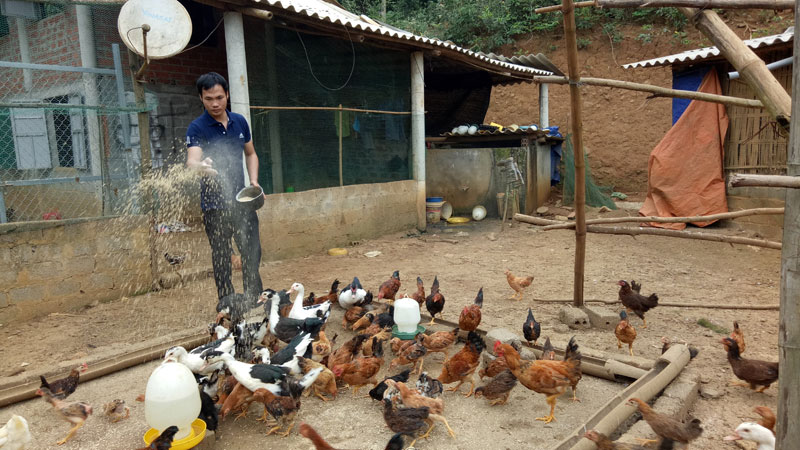 Mr. Tien Dat Bui is feeding chickens which are expected to gain profits.
With the capital of 200 millions VND borrowed from his sister, Dat invested in building cages for poultry farm. Studying farming techniques on the internet by himself, Dat went to Chi Thien commune in order to buy chicks and start implementing a model of chicken farming business with an initial scale of 300 chicks.
Selling the first chickens, there were no profits. Being undiscouraged, Dat invested in feeding 5 hundreds of chickens in the second times. In this time, Dat went to visit a model of chicken farm in Lac Thuy and Yen Thuy districts. Then, Dat's model of chicken farm was applied by a method of nourishing chickens cleanly. It means that his chickens were fed with corns, grains and released to the forest for food. In the second chickens, Dat took his chickens to the market for sale and got revenue of nearly 40 millions VND, but when lessening total expenses, there were no profits. Until the 3rd and 4th chickens, when he acquired more experiences and chickens were not died by diseases, the profits of poultry farm could be gained by over dozens of millions VND. At the moment, this is the 5thchickens which are fed by overlapping style. Particularly, there are 500 chicks in cages and 300 chickens which are ready for sale.
Dat realized that the most difficulties are the unstable demands and a lack of capital for expanding business. Now, the business of poultry farm in Lac Thuy district offers cooperation with Dat about the supply of 2000 chicks and ensures the demand for his chickens. As a calculation, the expenses of chicks, food and medicines are nearly 60 to 70 millions VND. Therefore, Dat expects to access the credit funds in order to invest in farming chickens. Dat plans to harvest acacia forest in next two years, then he will change to plant grapefruits and continues to enlarge the scale of chicken farm, which is suggested to bring more incomes for his family in the future.