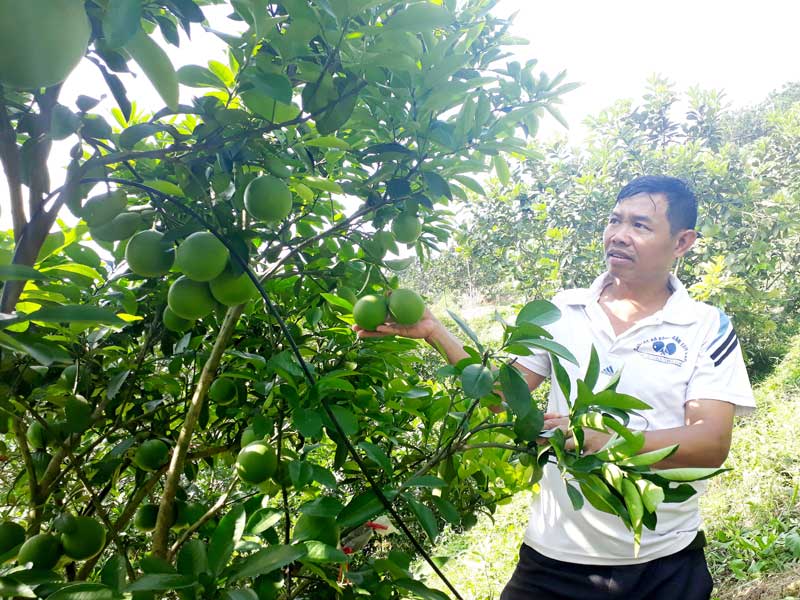 (HBO) – There is no doubt that the old barren hills are now being covered with the green of grapefruit trees. If Mr. Pham Khac Thuong had not pioneered with the "strange work" of taking red grapefruit up to the hill, perhaps, those slopes would be still now acacia planted. With the desire to bring red grapefruit further, He led the investment in machinery for preliminary processing, packaging products, etc.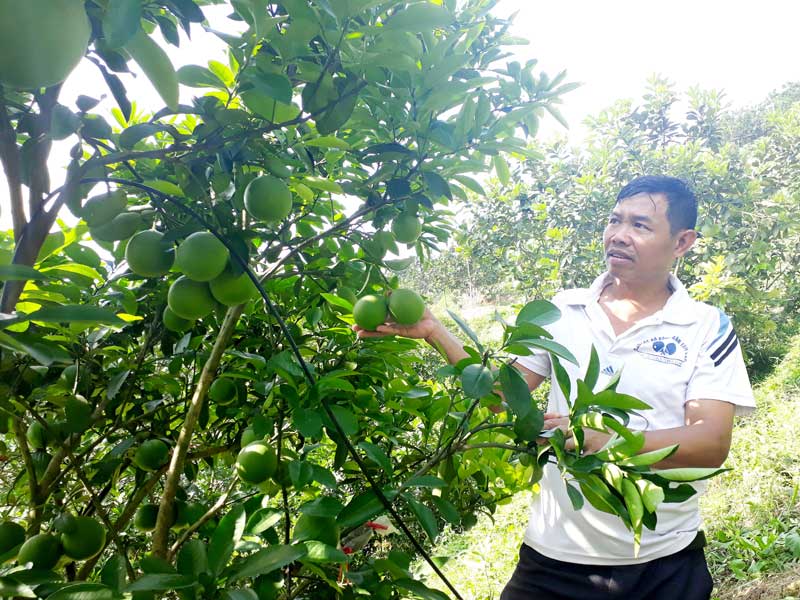 Mr. Pham Khac Thuong, Hamlet 3, Tu Ne Commune (Tan Lac) has been successful in bringing red grapefruit to the hill.
In order to carry red grapefruit up to the hill, Mr. Thuong and his family had to excavate the hill, invest in building water tanks for irrigation. The investment sum for 3 hectares of planting grapefruit was very large; he and his wife had to borrow from the bank. And then, it was not useless, the grapefruit grew day by day. After 2 years, then 3 years, the hills were covered with green color. During the time of planting, caring, waiting for picking fruit, Mr. Thuong grafted branches for breedling sale. Thousands of stems sold to the market have helped him earn income for long planting. Now, his grapefruit garden has turned to six years old and brings the sweet fruit beyond the expectation. Last year, the grapefruit garden was abundant of fruit; the family of Mr. Thuong has collected more than 700 million VND.
Besides a grapefruit garden in village 3, Mr. Thuong also invested in growing 1 hectare of red grapefruit and 2 hectares of yellow orange in Cu village (Tu Ne). So far, the garden has been 2 years old and being well developed. To take the best care of grapefruit garden, Mr. Thuong has invested in automatic sprinkler irrigation technology. "Grapefruit is not a soil picker, however, it is necessary to ensure the water supply to keep soil moisture." Compared to grapefruit in lowland areas, grapefruit on low canopy, the trees are smaller, fruit is also smaller.
Since bringing grapefruit to the hill, Mr. Thuong has created regular jobs for many local workers. With the desire to bring Tan Lac red grapefruits outreach with its own brand name and bringing long-term economic effect, in 2017, Mr. Thuong and some grapefruits growers cooperated together to set up a Production Cooperative to produce, process and consume red grapefruits of Tan Lac. Currently, the cooperative has 9 members; the total area of planting grapefruits is 30 hectares.