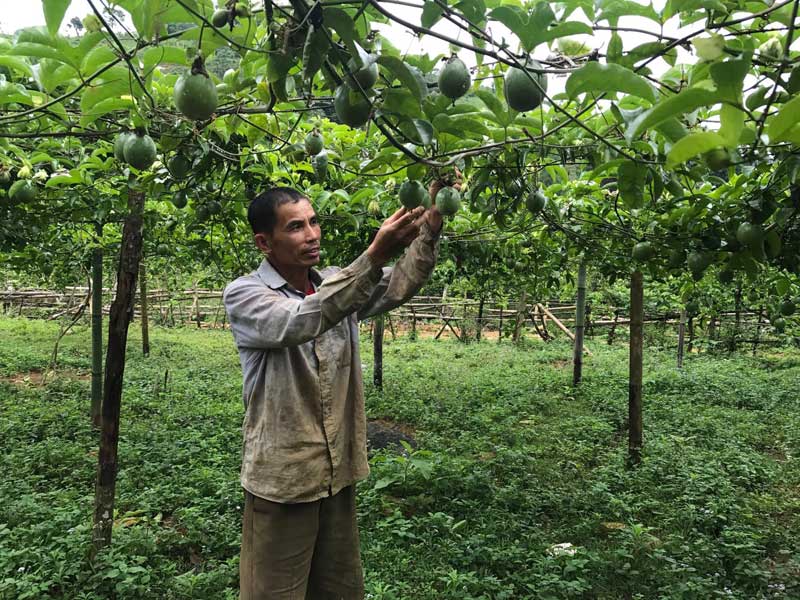 (HBO)
- Recently, the models of growing passion fruit in Tan Son commune (Mai Chau) has brought high economic efficiency.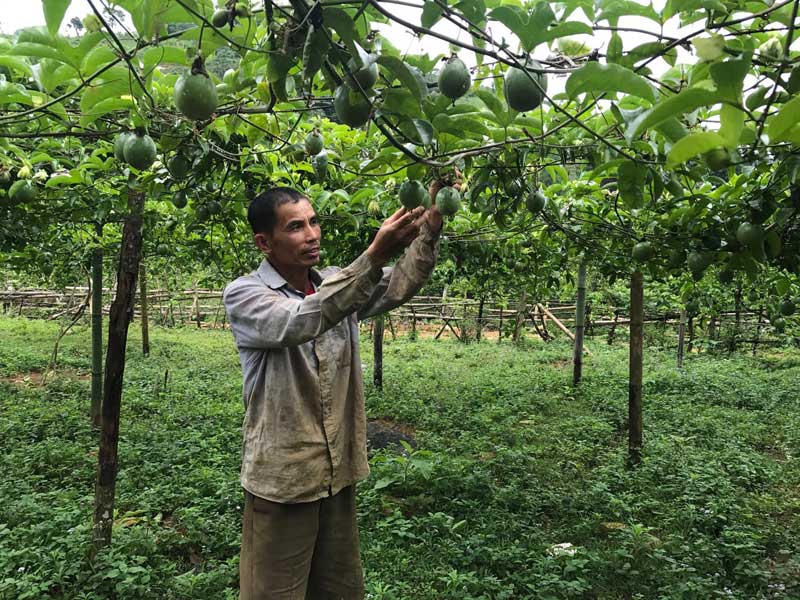 The family of Mr. Bui Van Thang, Bo Bau village, Tan Son commune (Mai Chau) earns 10 million VND by growing passion fruit.
Passion fruit trees came to Tan Son commune from 2017; up to now, there are nearly 40 households growing this kind of trees in the commune, concentrated mainly in Bo Bau and Tam Hoa villages, etc. with a total area of ​​4.3 hectares. 100% of Dai Nong 1 passion fruit seedlings of the commune is supplied from Northwestern NAFOOD joint Stock Company and is ensured for consumption by the company. In the first days of implementation, the farmers were not only guided about the planting technique from Nafood Company, but they also received loans to buy fertilizer and get rich from the project of agricultural development of Mai Chau district People's Council. At the same time, the commune organized the training courses for growing passion fruit and real visit to the other province in order to achieve the highest results. In 2017, the commune conducted pilot planting in Bo Bau village with an area of ​​3.3 hectares. After 5 months, the total yield of passion fruit harvested was over 4 tons. Up to the first quarter of 2018, the commune has expanded the passion fruit - growing area in the villages of Tam Hoa, Bo Liem.
As one of the first passion fruit farming households in the commune, with an area of 1,500 m2, Mr. Bui Van Thang (Bo Bau village) said: "In the past, my family planted corn. But after many years, the soil was exhausted, the corn quality reduced, the productivity was low. In addition, due to the cold climate, the winter often causes the frost, so there was only one maize crop in the whole year, which resulted in low economic efficiency and insecure incomes. In 2017, my family participated in the project of planting passion fruit of the commune. After the first crop, we harvested nearly 2 quintals of fruits; the family earned nearly 10 million VND. At present, we continue to expand the area of passion fruit growing to increase the yield of the trees".
Passion fruit can sustain with the extremely hard weather, especially in frost condition, with less pests, the harvest time is from 5-6 months, so that 2 crops can be planted in a year. With the average selling price of 15,000 VND per kg, and the product is consumption supported, the economic efficiency of passion fruit trees is much higher than that of maize, rice, etc. Growing passion fruit is a new effective direction, which brings high economic efficiency for local people.