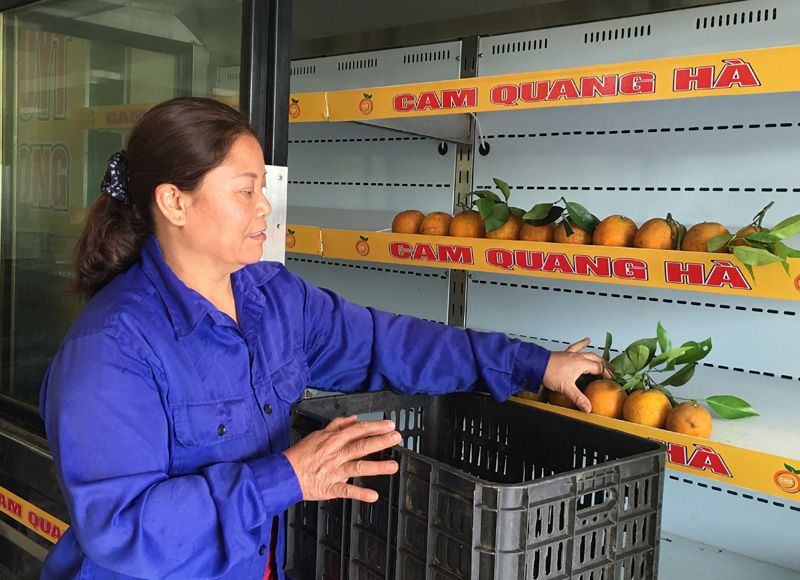 (HBO) – Production planning for orange production of northern Hoa Binh province is large but the province is yet to have effective solutions on consumption. As the orange's consumption market depends on traders, the price the province's specialty is low and unstable.
In addition, the Cao Phong One Member Company Limited with its key role in orange production has not conducted its business restructuring and production under VietGap standards. The fight against fake and imitate goods is facing many difficulties while there are intermediary stages in the fruit value chain. Those are among problems in management on Cao Phong orange's geographical indication.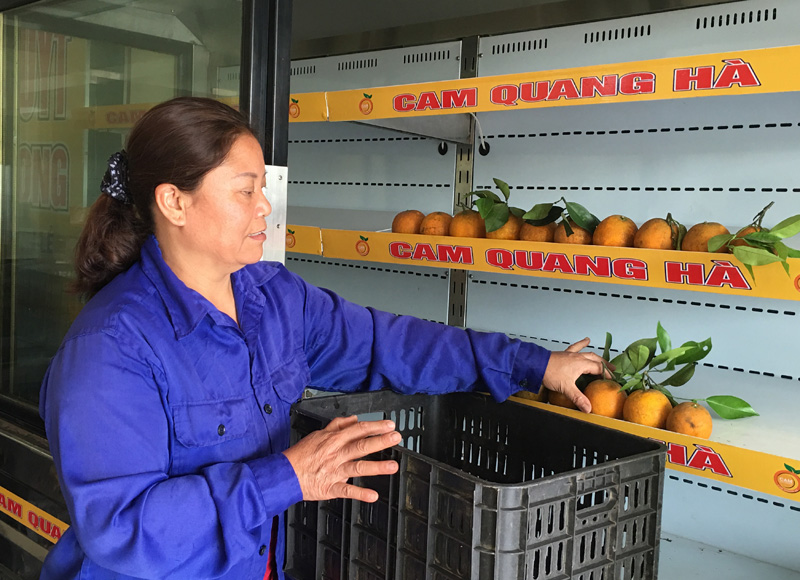 The Ha Phong Agriculture and Services Cooperative (Cao Phong district) carried out orange production under VietGap standards and stuck stamps of origin to manage the products.
Cao Phong district is home to more than 2,800ha of citrus trees, including 1,900ha of orange, over 900ha of tangerine and grapefruit. The commercial Orange growing area hit more than 1,200ha, while the remaining area is in building process. Output in the 2017-18 crop reached over 33,000 tonnes. Production under VietGap standards in recent years has been implemented in each household.

The district allocated 423.36 hectares of land to 315 households growing oranges under VietGap standards. In 2014, nearly 47ha of land was granted to 15 families, while 100 households received 59.5ha of land in 2015. About 141.9ha and 164.6ha of land were given to 120 and 87 families in 2016 and 2017, respectively. Those households following VietGap standards were mainly in the communes of Bac Phong, Dung Phong and Thu Phong, and Cao Phong township. There are two organisations granted a certificate of geographical indication.

Besides, some businesses were pioneers in using stamps citing product origin, namely Hung Phong company, Ha Phong and Anh Tu Cooperatives and Mr Bang in Cao Phong township.

In the 2017-18 crop, those firms used more than 20,000 stamps of origin. The district's farmer association used about 7,000 stamps with bar code to track origin. Besides, all 315 households received the certificate of VietGap standards using bar code to manage and trace product origin.
Annual festivals and orange trade fairs have contributed to introducing Cao Phong orange to visitors. The orange was granted the certificate of "Famous brand name in 2016", being among 10 well-received products, which contributed to raising its value.

In the previous crop, the province discovered and strictly punished one household making fake packaging of the Cao Phong One Member Limited Company, confiscating more than 1,900 imitation wrappings. In 2017-18 crop, there is no such case reported. The price of Cao Phong orange is stable and no other types of orange is mixed with Cao Phong oranges./.