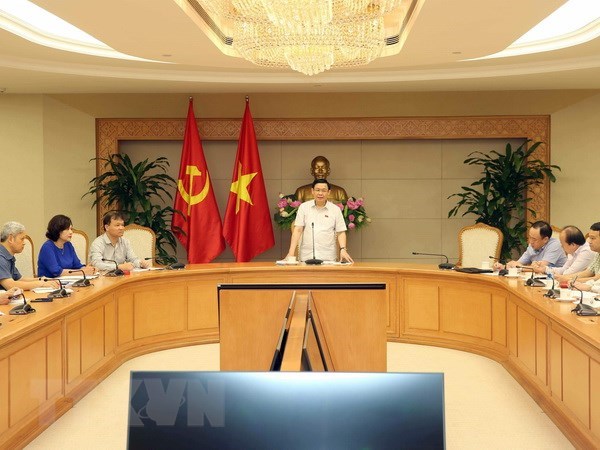 Deputy Prime Minister Vuong Dinh Hue has urged the Government's Steering Committee for Price Management to seek measures in order to minimize external impacts on domestic prices, thus keeping CPI growth below 4 percent in 2018.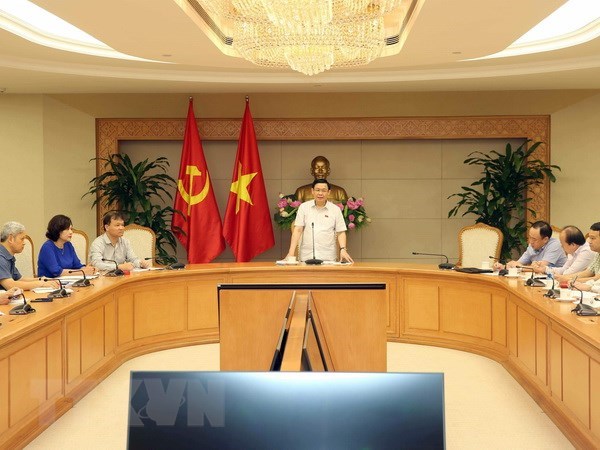 Deputy PM Vuong Dinh Hue speaks at the working session (Source: VNA).
Speaking at a meeting of the committee in Hanoi on May 29, Deputy PM Hue, who is also head of the committee, said the consumer price index (CPI) growth in the first four month of this year was in line with the scenario set by the committee thanks to coordination in price management between ministries.
However, he said, over the past two months, higher prices of oil, gas, pork and food, plus complex developments in the world's market have put huge pressure on the price management work.
Nguyen Anh Tuan, Director of the Finance Ministry's Price Management Department, the CPI expanded by 3.01 percent in the first five months of 2018.
The ministry forecast that such factors as floods, the adjustment of prices of health care and education services, along with an increase in the basic salary and environmental tax on fuels would put more pressure on the CPI.
However, the pressure would be eased thanks to the stable demand for fresh food in the summer, a decrease of 10-15 percent in medicine prices under the centralised bidding programme for drugs, and stable interest rates, among others.
Deputy Minister of Industry and Trade Do Thang Hai said his ministry has instructed the Electricity of Vietnam (EVN) Group to save production costs so as to maintain the current power retail prices, while closely coordinating with the Ministry of Finance to effectively and harmoniously use the oil and gas stabilisation fund.
Deputy Minister of Transport Le Dinh Tho said Build-Operate-Transfer (BOT) toll stations have basically adjusted road fees in line with the government's instructions and stabilised prices of seaport and airport services.
Concluding the working session, Deputy PM Hue stressed that it is possible to control the CPI growth below 4 percent in 2018.
He asked the ministries to maintain prices of goods managed by the State and continue with the review work to accelerate the decrease of prices of such products as drugs and medical materials.
The Ministry of Agriculture and Rural Development and other relevant ministries were asked to maintain rice export structure, control the number of pig farms and actively negotiate with China to ship more Vietnamese fruits to the country.
The Deputy PM also urged the Health Ministry to push the centralised bidding of drugs and the bidding of medical equipment, while promptly issuing a circular to replace Circular No. 37. The new circular should come into force from July 15, 2018, stipulating the decreased of 80 types of medical services.-