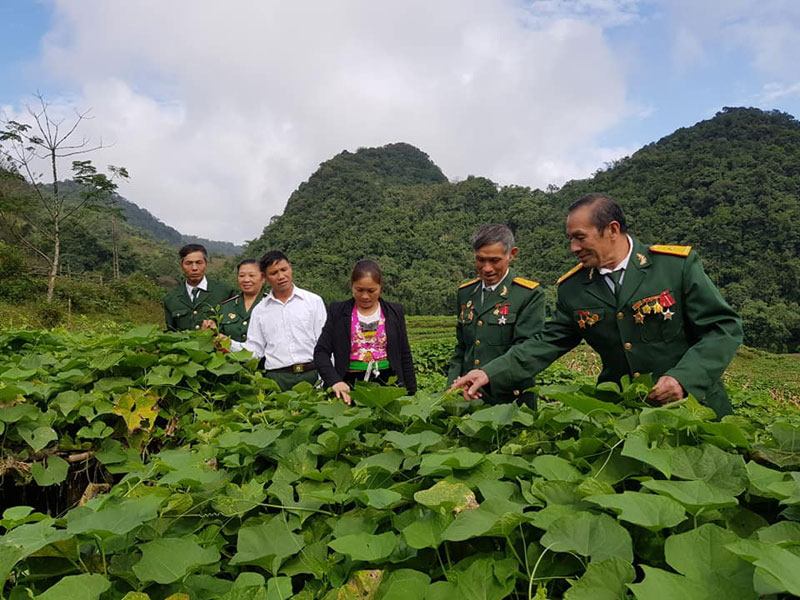 (HBO) - In order to help its members to increase their economic development, in the past time, the Veterans Association of Lung Van commune (Tan Lac) always encourages its members to raise their self-reliance, no tolerance for poverty, emulation of effective production, actively contributing to poverty reduction in the locality.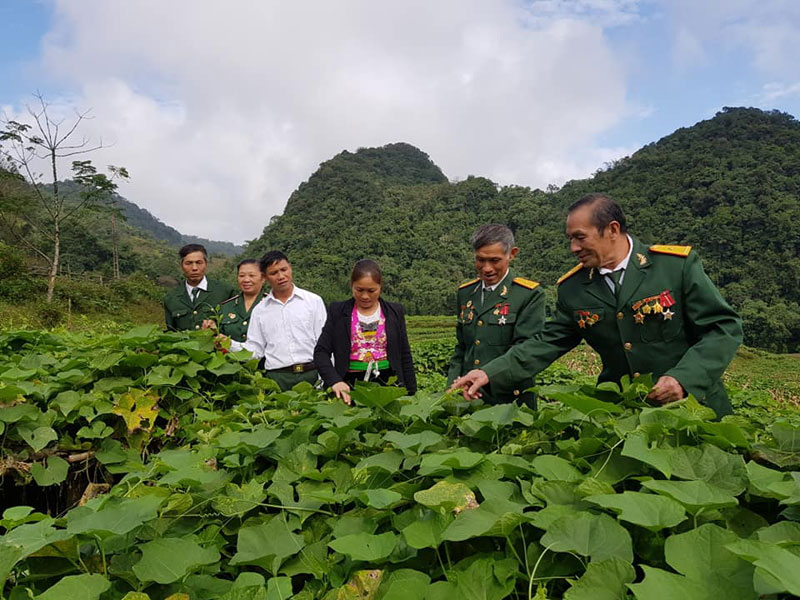 The members of Veteran Association of Lung Van commune (in Tan Lac) visited the model of planting chayote vegetables in Lo village.
Mr. Bui Van Hoang, a member of Chieng village Veteran Branch, is one of the typically leading members in the local economic development movement. Recognizing that the local natural conditions are favorable for livestock development and peach planation, Mr. Hoang was determined to develop economy from this field. Thanks to his hard-working, patient and choosing the right direction to develop the family economy, every year after deducting the expenses, Mr. Hoang's family collected nearly 200 million VND.
like Mr. Bui Van Hoang, another member Mr. Bui Dang Nhan, in Nghe village also developed the effective family economy from livestock husbandry and citrus plantation. Every year, his family collects over 300 million VND. The member Bui Dang Thong developed the production and business services with the annual income of over 300 million VND. In addition, the commune Veteran Association has four household members producing and trading services with the income over 100 million VND per year and dozens of household veteran members growing chayote vegetables, reaching 50-70 million VND per year.
Mr. Ha Cong Them, the Chairman of Lung Van Commune Veteran Association said that the commune Veteran Association currently has 157 members and 8 branches. With the spirit of solidarity and mutual assistance, helping each other to alleviate hunger and reduce poverty, the commune Veteran Association has actively cooperated to organize training courses on transferring science and technology in intensive cultivation of plants and animals raising with high economic value. At the same time, the Association has collaborated in credit with Social Policy Bank to create favorable conditions for members to borrow preferential loans for development of production, husbandry and business services. By the end of October 2018, the Association had entrusted loans with total outstanding loans of over 2.7 billion VND, letting 114 households to borrow capital to develop production and business. In addition, the Association has the funds from savings which reached nearly 70 million VND to help, encourage members of difficulty in their economic development.