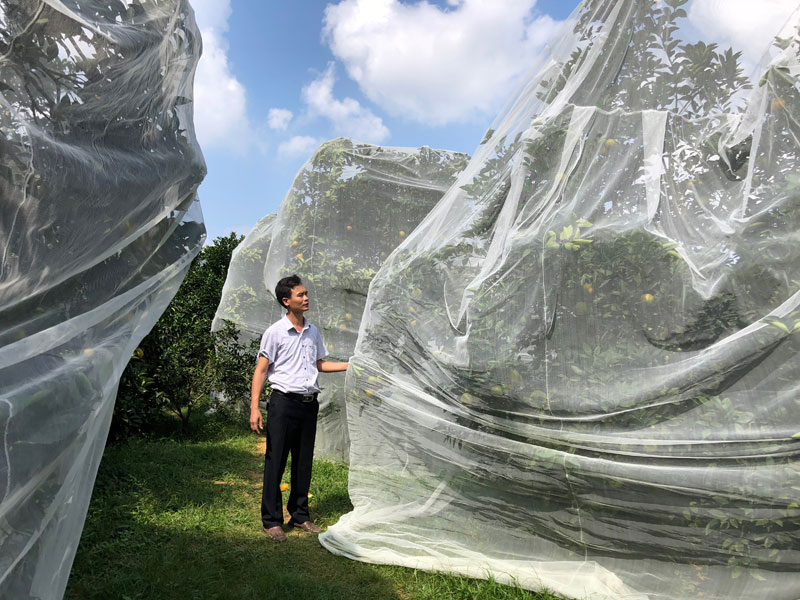 (HBO) - It is the idea of Mr. Duong Nhu Mung, in Mo gardening house, Binh Thanh commune (Cao Phong). He has conducted an experiment to spread the net for oranges in his garden since July to now. The result is better than expected: the quality of fresh fruits is better, the color is eye - catching, the fruit is all ripe and especially there is a limitation of the fruit falling condition which is common influences from insects and pests.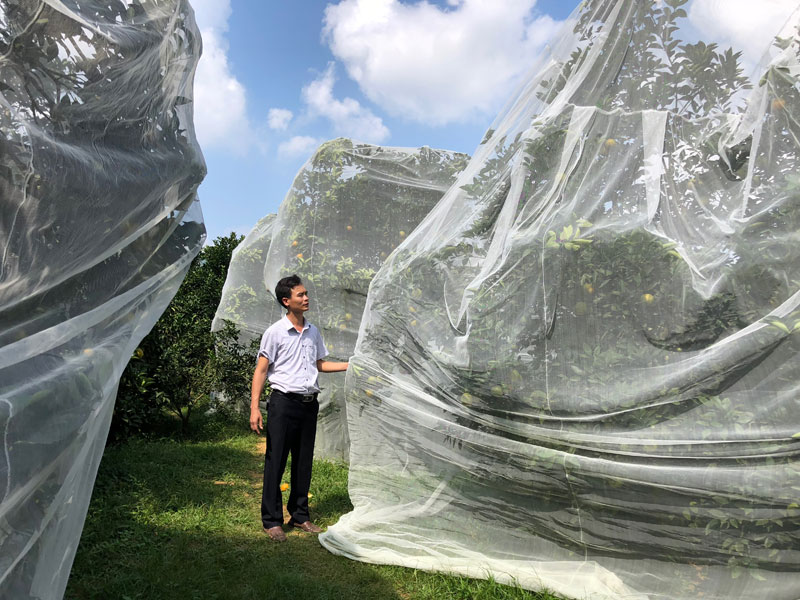 Mr. Duong Nhu Mung actualizes the idea of protecting oranges from pests and insects by using net system.

Mr. Mung's family has 11.5 hectares of citrus fruit, mainly yellow oranges, V2 oranges, and Canh oranges. In order to have the largest orange garden in Binh Thanh commune, he used up all his capital and effort. About 6 hectares of oranges were in the business cycle time.

In particular, while thinking and finding new things, Mr. Mung gave the idea of using the net for orange fruit, which derived from his doubt that lying in the mosquito net can protect human from mosquitoes or insects. Thus, if the net is spread for oranges, oranges will also be protected to prevent the fruit from pests and insects. As he shared, the harmful agents from the sweet fruit to harvesting time is not only the golden flies but also the impact of autumn - winter climate with many frosty.

The initial cost was quite expensive, about 200,000 VND per plot per tree. However, he confidently said: In the process of the experiment to use the net for protecting the orange area, the number of yellow flies and magnets have been reduced thoroughly. The design and durability of the net can be used from 3 to 5 years. Therefore, you can invest in the first season but you can get the benefit at least for 3 years. The insects, pests and diseases no longer have the chance to penetrate, causing loss of quality and yield. In addition, when spreading the net to protect oranges gets another important benefit, that is the gardeners do not need to use pesticides, the isolation time with pesticides is absolute. Moreover, the net can protect oranges and its appearances from the frost influence.

At present, Mr. Mung is testing of net spreading for about 500 trees in an area of 1 hectare of VietGAP oranges trees.