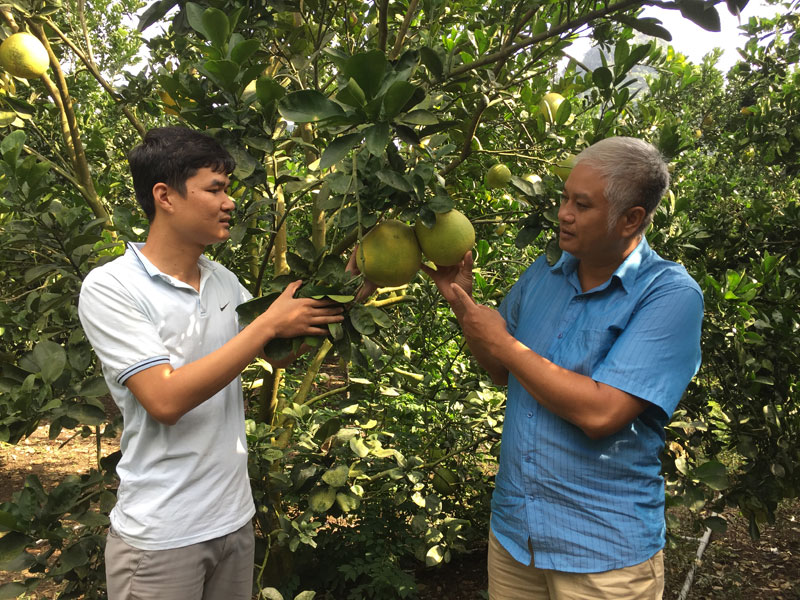 (HBO) - In the period from 2016 up to now, Huu Loi commune (Yen Thuy district) has expanded over 80 hectares of citrus fruit trees and have harvested about 5.6 hectares. Thereby they can improve their income step by step, improving the living quality of the local people, contributing to promoting local socio-economic development.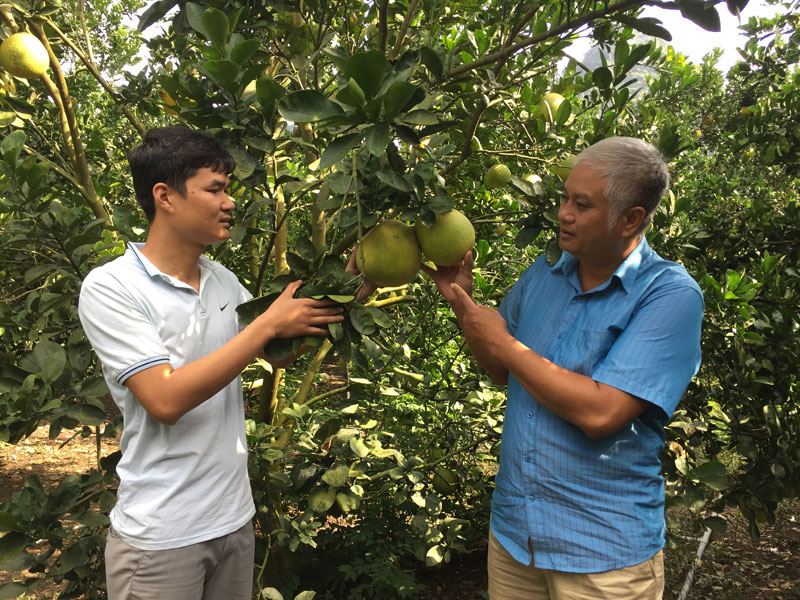 As a pioneer in planting citrus trees, Mr. Hoang Anh Viet (right) 's family in Yen Loi village, Huu Loi commune (Yen Thuy) earned about 700 million VND each year.
. The area of citrus trees in the commune is mainly Dien grapefruit (70 hectares), oranges (7.6 hectares) being concentrated in the villages of Vo, Roc and Dap. We visited the garden of Mr. Hoang Anh Viet, Yen Loi village, the pioneer farmer of planting grapefruit from 2005 in the commune. Through the knowledge, before planting citrus, he has grown apples, longans, leeches, etc. but there was no good results. Recognizing that some households in Ngoc Luong commune planted grapefruit effectively, Mr. Viet boldly planted 120 roots on an area of about 5,000 m2. Thanks to the positive learning, research and application of science and technology into the process of fertilization, the pomelo garden of his family has developed well, earning the annual income of 200-300 million VND. From 2010 to now, Mr. Viet's family has expanded the area to 12 hectares with about 6,000 Dien pomelo trees.
At present, Huu Loi Commune in collaboration with Social Policy Bank, the District Bank of Agriculture and Rural Development created conditions for households to borrow capital for economic development with a total debt of 26.1 billion VND. In which, many of these households used this capital to invest in the development and expansion of citrus gardens. In addition, the Commune Community Learning Center regularly cooperates with the District Station of Agricultural and Forestry Encouragement to organize training sessions and transfer the applied science and technology into citrus care.
Mr. Quach Van Ngot, the Chairman of People's Committee of Huu Loi Commune, said: "Thanks to the efficient development of the citrus sector, the per capita income of the whole commune has reached 18 million VND / year, increasing by 4 million VND as compared to 2015. In the coming time, the commune authorities will encourage households to continue to improve their mixed orchards and to expand citrus fruit production areas, thus creating links with traders in Hanoi, Ninh Binh, Nam Dinh, Thanh Hoa, etc. to consume products.