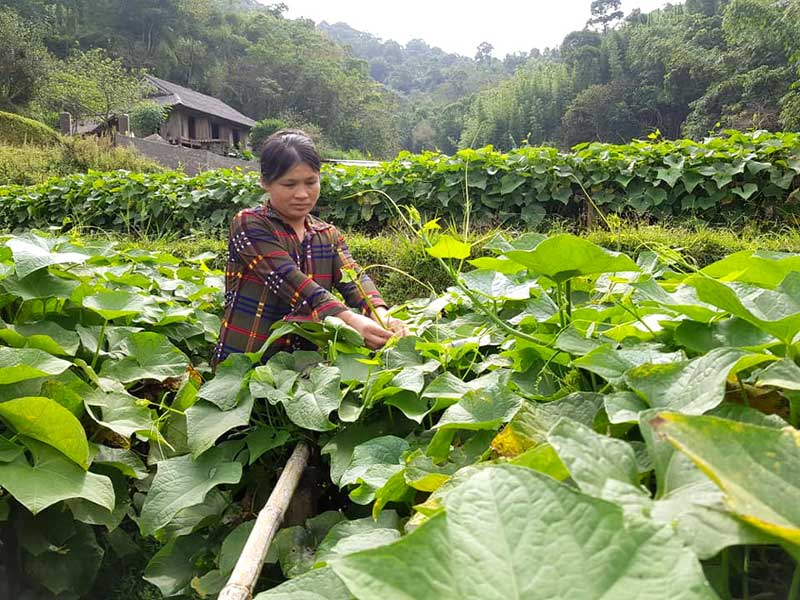 (HBO) We met Ms. Bui Thi Tuy, Lu Village, Lung Van Commune (Tan Lac) on the fair. She was always busy with the work and really impressed by the enthusiasm, diligence and thoughtfulness of the highland women who tried to escape the poverty to stabilize family life from planting chayote trees.
Today, at the fair the commune organizes a job transaction floor, so the customers order a lot. From the early morning, her whole family focused on cutting off the tops of the chayote trees. A lot more other customers wanted to buy tops of the chayote trees but there were not any left. Therefore she had to collect tops of the chayote trees from a few families. Although customers ordered a lot, she still carefully cut each of the green tops of vegetables, which is good for customers. Ms. Tuy said: The entire area of ​​the chayote trees has never been sold in the retail market. For many years, customers have come to the gảden to buy them.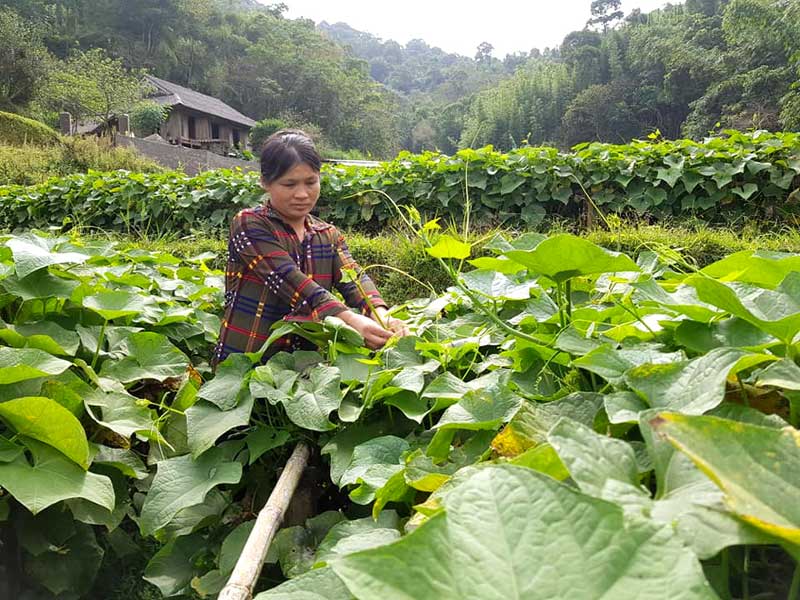 Ms. Bui Thi Tuy, Luc Village, Lung Van Commune (Tan Lac) is harvesting the tops of the chayote trees

Ms Tuy said: "Four years ago, my family belonged to one of the poor households. The economy depended on growing rice, corn and raising a few chicken. Since the commune changed the structure of crops from poor tree planting into growing chayote trees."Ms. Tuyet said that the natural chayote trees adapted to the soil and climate and they have been growing well without any care for many years. Thanks to the broadcast media, fresh chayote vegetable in Tan Lac highland has been popular in many places, so it is easy to sell. Cultivating chayote trees is not so dificult with low investment capital and without much care. The trees don't have many pests, either. Especially, the chayote trees for tops only provides daily harvesting and the harvest time lasts from 4 to 5 years to be replanted, bringing the economic efficiency, which is many times higher than the other crops. Realizing the high economic benefit, her family has focused on making use of the available land areas to plant chayote trees. From earning a few million dóng a month, and now her family earns an average of 10 million VND/ month from selling tops of the chayote trees.

After escaping poverty from growing chayote trees, Ms. Tuy's family has accumulated some capital to invest in raising pigs and chicken in the direction of goods. Each year, her family earns about 200 million VND.