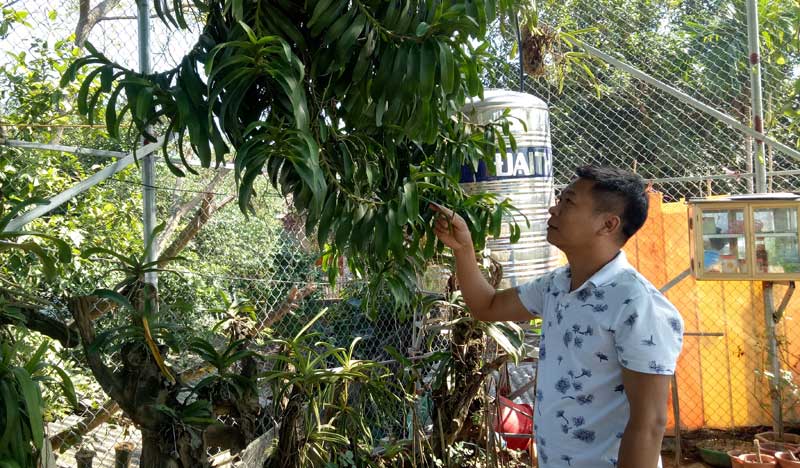 (HBO) - With a passion for wild orchids, 8 years ago, Mr. Hoang Ngoc Dinh in Zone 1, Ky Son town (Ky Son) gave up his job and decided to turn to start the orchid plantation business.
In his garden, there are 300 small and large orchid baskets, more than 1,000 rose plants. Of which, the variety of forestry orchids is mainly and dozens of mutation orchids.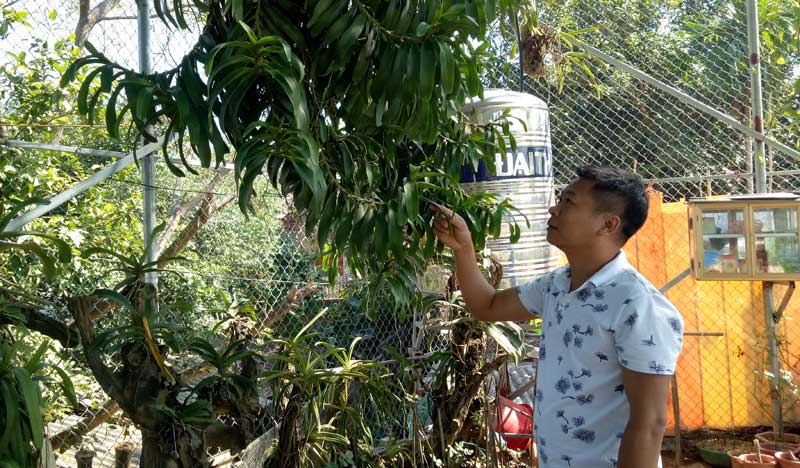 Mr. Hoang Ngoc Dinh takes care of the orchid baskets of "giáng hương tam bảo sắc".
He went to large and small orchids gardens inside and outside the province to learn from the experience. After that, he bought kilograms of orchids to join, at the peak, he bought quintals of orchids in Laos for transplanting. Once he transplanted a beautiful orchid basket, he posted on the Internet, and then bought to the customers. With his 8 years of grace with orchids, Mr. Dinh gained much experience. He shared: because the forestry orchids are favored because they have a strong vitality. However, to make them be suitable to the garden environment and bloom soon, the orchid growers must spend 2-3 years or more to make the flowers be familiar to the garden. In that process, orchids need to receive meticulous care and special attention.
Currently, his orchid garden is mainly Dendrobium anosmum orchids, bringing high value, with the average price of 500,000 VND / top.
Three years ago, the demand for roses of people increased. Mr. Dinh invested in buying 600 m2 of field land to grow roses. The first thing he did was planting roses for cuttings and transplanting. After that, he surfed the Internet to look for resources and bought overseas rose varieties, ancient roses of Sapa, Hai Phong ancient roses, etc. Now his garden has about 1,000 rose trees of all kinds from a few hundred thousand VND to several million VND. Going among the fragrant rose garden, he said that the beautiful blooming flowers then have been wasted. So from the beginning of the year, he invested in a distillation pot to make rose water from overseas rose flowers manually. Every 10 days will gain 1 litter, 3 times a month for distillation of 200-300 bottles. Up to now, about 3,000 bottles have been produced, which are all consumed. Because it is a handmade product, there are no chemicals and preservatives, so it is trusted by customers, mainly for women to care for their skin.
Up to now, his family wholeheartedly supported him to grow and trade orchids and roses. From mid-2018, he invested in a store that sells orchids, roses and supplies for flower hobby.
After 8 years of passion with orchids, Mr. Dinh set up the secret orchid cultivation suitable for his orchid garden.