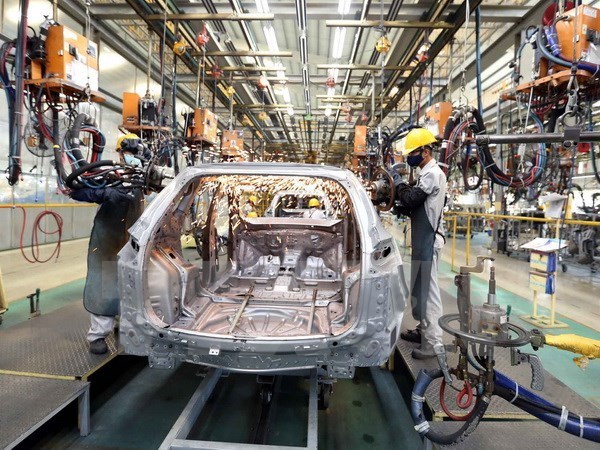 Most firms in the manufacturing and processing industry were optimistic about their production and business activities for the first quarter of 2019, according to a survey by the General Statistics Office (GSO).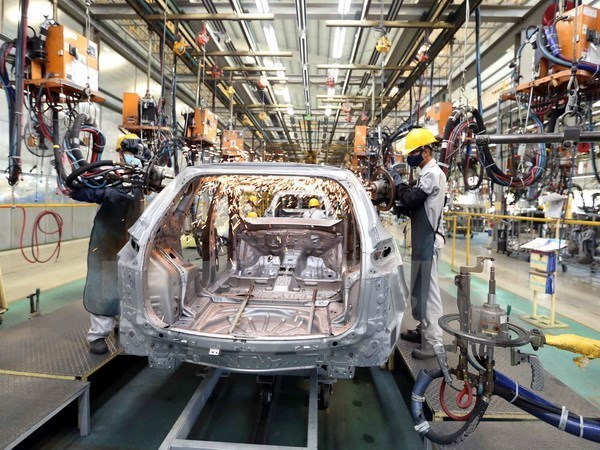 Automobike frame manufacturing in THACO factory in Chu Lai industrial park, Nui Thanh district, Quang Nam (Photo: VNA)
More than 47.3 percent of surveyed firms said that they anticipated better business compared to the last quarter of 2018, and 37.8 percent expected stable business.
Only 14.9 percent forecast their business and operation would be more difficult.
The inventory of the manufacturing and processing industry sits at 64.4 percent, the lowest rate in the past three years.
Another survey of construction firms showed 59.6 percent predicted improved or stable business in the first quarter of 2019 while the rest expected more difficulties.
According to the Vietnam Chamber of Commerce and Industry, Vietnamese firms were also optimistic about their business prospects in 2019 with 51 percent saying they had plans to expand.
A recent survey by the Vietnam Supply Chain also found that more than 80 percent of surveyed firms believed 2019 would be a better year than 2018. Only 7.7 percent were worried 2019 would be worse while 9 percent were not sure.
GSO General Director Nguyen Bich Lam said business confidence had improved significantly thanks to the stable macroeconomic situation and improved business climate.
The number of new firms also increased for the third consecutive year to set new records.
More than 131,000 new firms were established in 2018, an increase of 3.5 percent over the record of 127,000 new firms set in 2017.
On average, each new firm had a registered capital of 11.3 billion VND (491,000 USD), up by 10.2 percent over last year.
Firms registered to pump a total of more than 3.88 quadrillion VND into the economy in 2018.
However, the GSO noted the number of firms temporarily halting operations rose by a whopping 49.7 percent against 2017. The considerable rise in this number was partly due to business registration offices nationwide conducting reviews and eliminating firms which did not report any operations for a long time.
The number of firms which were dissolved in 2018 was more than 16,300; 91 percent of them had registered capital of below 10 billion VND.
Pham Dinh Thuy, Director of the GSO's Industry Statistics Department, said he believes the Government's target of having one million firms by 2020 is within reach. He said that as of July 1, 2018, there were already 720,000 firms.