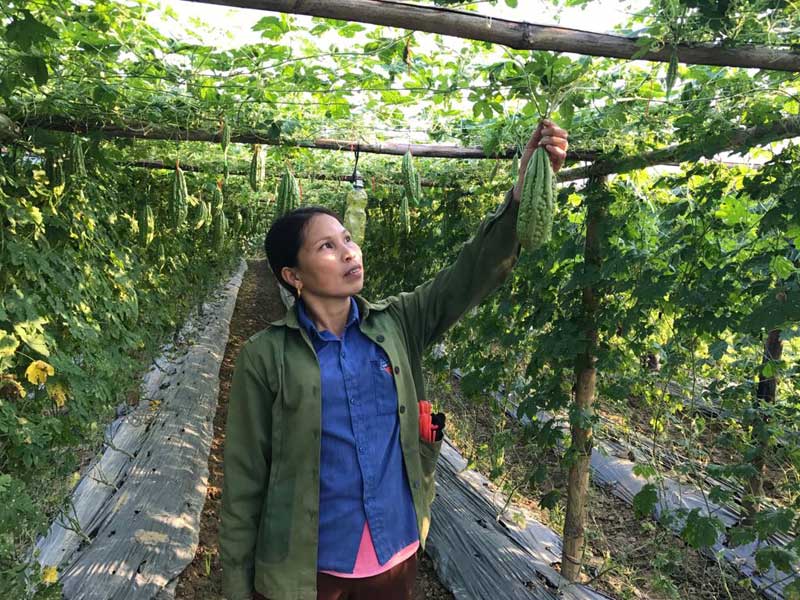 HBO – The Women's Association in Du Sang commune currently has 1,154 members who belong to 21 chapters. President of the association Bui Thi Hien said that over the past time, the association has actively directed its chapters to intensify economic development in line with new-style rural area building.
At present, loan outstanding balance reaches 8.7 billion VND (377,000 USD), benefiting 304 households. In addition, the association manages 494 million VND of the Childfund project, which provides loans for 506 members. These loans have proved effective, and many outstanding individuals in economic development appear, such as Bui Thi Huong and Bui Thi Lien in Bua Sao village with a wax gourd growing model, and Bui Thi Hien in Bai Tam village with a citrus growing model.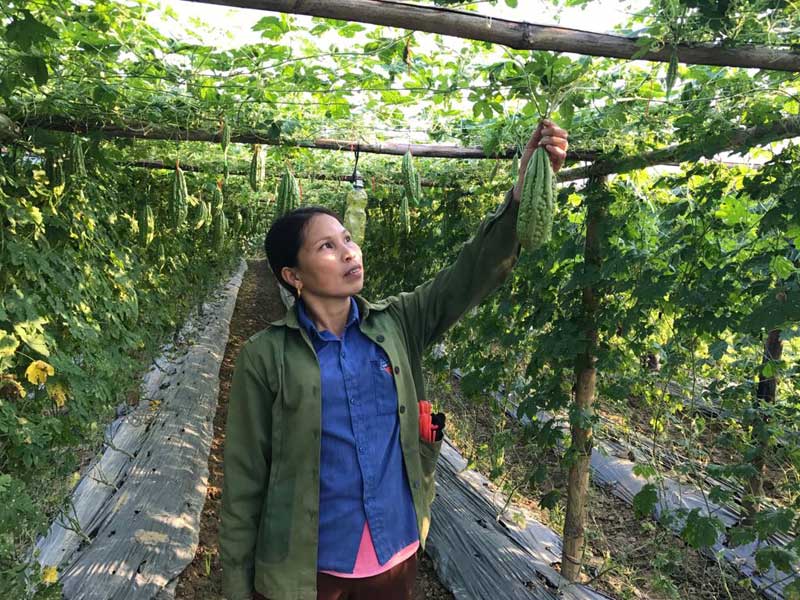 The wax gourd and bitter melon growing model brings about income of 8-10 million VND a month for the family of Ms Bui Thi Thuy in Bua Sao village.
Ms Bui Thi Thuy, member of the Du Sang Women's Association – Bua Sao chapter, said: "In the past, as my family's economy depended on rice cultivation, our life was so hard and our income was not much. Thanks to the movement of crop transformation of the commune Women's Union, and the support of entrusted loans from the Vietnam Bank for Social Policies, I bravely shifted the area of rice cultivation to growing vegetables, thus bringing high economic efficiency. Currently, my family grows wax gourd and bitter melon, with the average income of 8-10 million VND a month ".
To date, the communal Women's Association has built a lot of effective and sustainable economic models, bringing about high incomes for members and contributing to the new-style rural area building. Along with economic development, the association has carried out the "5 no – three clean" movement effectively, with the rate of members using clean water and hygienic toilets surpassing 90 percent. The association and its all-level chapters have disseminated and encouraged women to implement family planning, avoid giving the third child, use safe contraceptive methods and improve the quality of the population. To boost the implementation of the campaign "Women join hands in the new-style rural area building", members have actively contributed money, labour days to participate in digging and clearing canals, building infrastructure facilities and roads, well maintaining the roads self-governed by women, conducting monthly sanitation, preserving environmental landscapes, and ensuring security and order./.