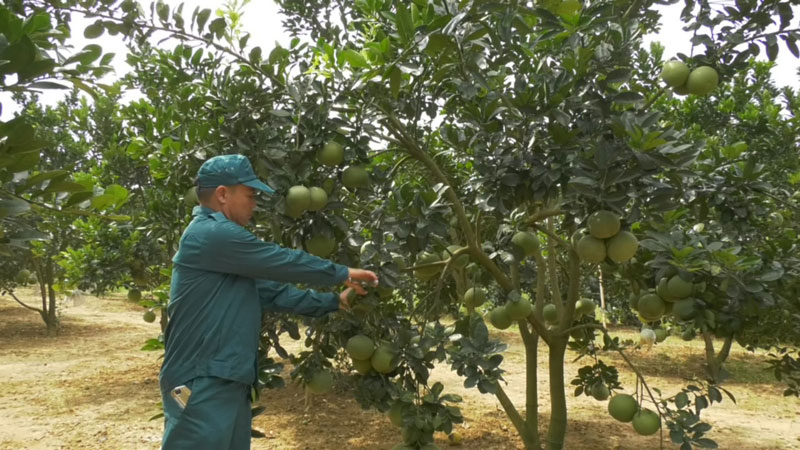 (HBO) Born and raised on the land of 2/9 Hoa Binh Farm, which is now 2/9 Hoa Binh One Member Limited Company, after many years working in the South and the North, in 2006, Mr. Ta Huu Hau returned to work as a farmer, participating in the company's militia and self-defense force.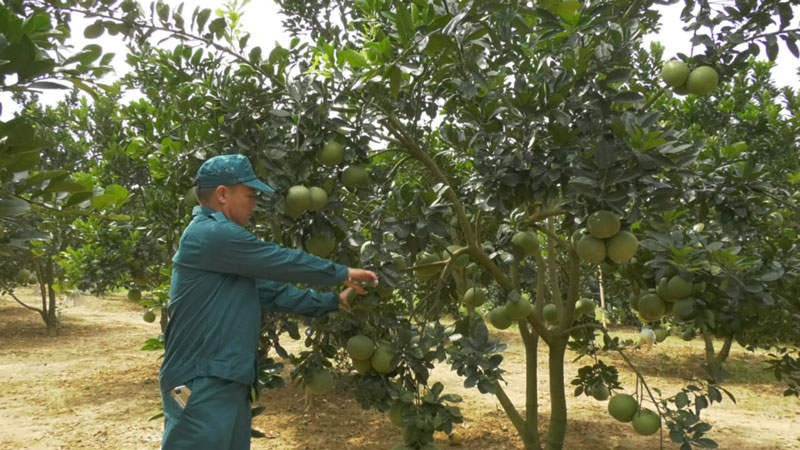 In 2008, he invested 20 million VND to buy 1 ha of garden land. During this time, Mr. Hau still went back and forth to the South and North to work. After many nights of thinking, exploring, learning from friends, books, newspapers and television, Mr. Hau decided to buy 200 Doan Hung pomelo trees, Green pomelo trees and Tan Lac Red pomelo trees. He planted pomelo trees in his garden as an experiment.

After 3 years of sun-drenched beams with new kinds of pomelo trees, in the first year his family earned over 200 million VND from pomelo trees. He gradually bought more land to expand the production. Up to now, the scale of Mr. Ta Huu Hau's garden has expanded to 3 hectares. He has focused on investing, renovating and planting more than 1,200 citrus trees with high economic value. The products are also popular in the market. They are Doan Hung pomelo trees, the Green skin pomelo trees, Tan Lac Red pomelo trees, Dien pomelo trees, Canh Oranges and peach-lemon trees. Along with that is the system of indigenous pig breeding facilities including 30 female pigs and piggies. Talking about the effectiveness of pomelo trees, Mr. Hau said that 200 pomelo trees at the beginning brought have about 4 million VND per tree per year and the newly-planted ones have also brought a benefit of 1 million VND / tree. So I have found that planting pomelo trees is much more effective and valuable than growing rice and corn.

Together with this, Mr. Hau has opened a grocery store at home to sell the essential goods to serve the consumption needs of the local people. At the same time, he is co-ordinated with Phu My Fertilizer Company to demonstrate the set of NPK and potassium protein products. From the income of over 200 million VND, now his family's annual income is about 2 billion VND. In two years, 2017 and 2018, Mr. Ta Huu Hau was awarded a certificate for the outstanding and typical farmers by the Chairman of the Provincial People's Committee. He was also awarded a certificate of outstanding production and business farmers by the Provincial Farmers' Association.