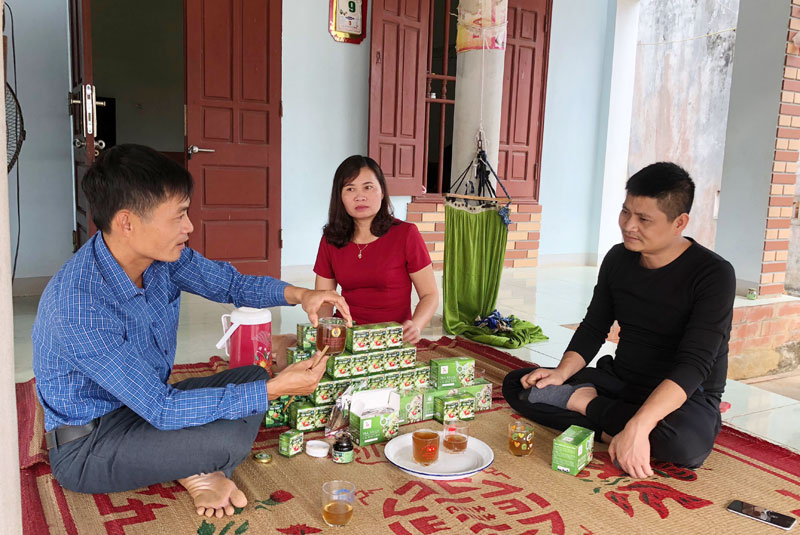 (HBO) Less than 4 years since the first seedlings were placed, the medicinal area of Yen Thuy solanum procumbens has increased to hundreds of hectares. wherever the solanum procumbens are grown, the way of the farmers' livelihoods is opened, becoming the "salvation" of the poor. Yen Thuy solanum procumbens also gain a proud milestone: not only they are firmly established in the domestic market but they are also popular in 3 overseas markets including Russia, China and Thailand. The person who has created the brand name and brought the Yen Thuy medicinal solanum procumbens to reach far away is Mr. Bui Quy Hoi (born in 1983), the director of Bao Hieu Agroforestry co-operative.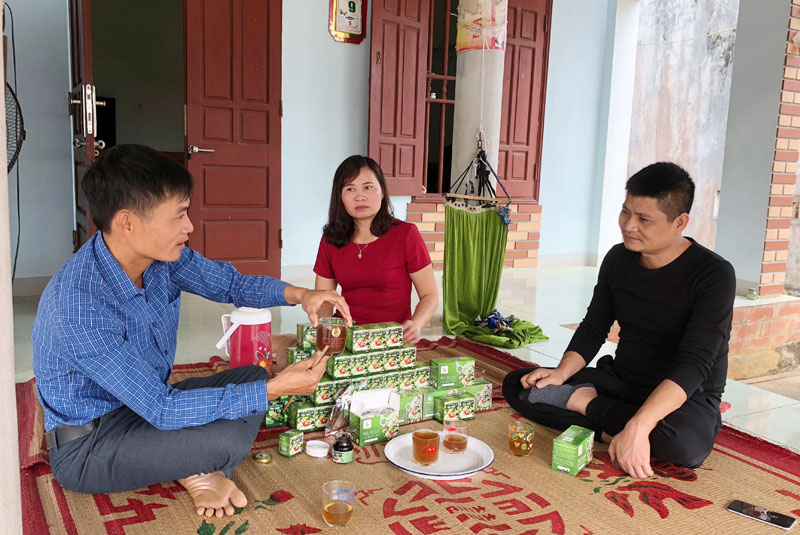 Director Bui Quy Hoi (on the left) introduces the high quality product of Yen Thuy solanum procumbens to the customers.
In 2016, the cooperative produced nearly 100,000 seedlings of solanum procumbens. By 2017, it produced more than 150,000 seedlings and more than 200,000 seedlings in 2018. Not stopping at the supply of seedlings, solanum procumbens were planted by members of Bao Hieu Cooperative members and other farmers in Bao Hieu commune and then they have been expanded after the success of the poverty reduction project in a nearby commune. In 2016, the area for growing medicinal solanum procumbens of the cooperative and Dam commune increased by 10 hectares, by 20 hectares in 2017 and 25 hectares in 2018, respectively. With the average yield of 12 tons of dried solanum procumbens a hectare, the raw material of solanum procumbens is consumed by the cooperative with a stable price of 35,000 VND a kilo. On average, each hectare of solanum procumbens reaches a revenue of over 400 million VND. Cooperative members have increased to 12 households, attracting 20 workers, linking with 2 cooperative groups and 200 households, ensuring the average income of nearly 10 million VND a month for each member. The income of the members taking part in the production of the cooperative groups involved in has reached 4-6 million VND a month.
Solanum procumbens are highly medicinal plants, having many uses such as liver detoxification, liver enzymes, alcohol relief. They can support for hepatitis B treatment, fatty liver, fatty blood, cirrhosis, gout symptoms, rashes, hot pimples, numbness, back pain, aches and cough due to sore throat. Solanum procumbens are produced in Bao Hieu commune and they are sold with high income when they are dried.
In 2 years (2017 - 2018), the introduction of high products, following by Yen Thuy products of solanum procumbens bag reaching GACP standards have been welcomed by the market with positive feedback. On average, the cooperative annually produce and consume 25,000 - 30,000 high quality products. In particular, " Yen Thuy solanum procumbens" have been certified the copyright. They are highly appreciated by consumers. Therefore, they are available in the Russia, Thailand and China. There have been over 200 agents and business points all over the country.