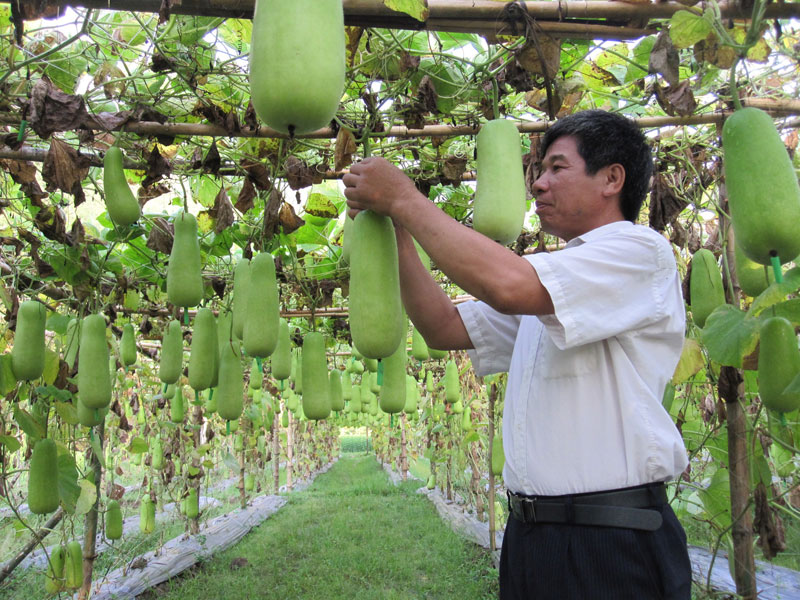 (HBO)-The veteran Vi Van Thin in Lau hamlet, Mai Ha commune is a good example who is doing business well.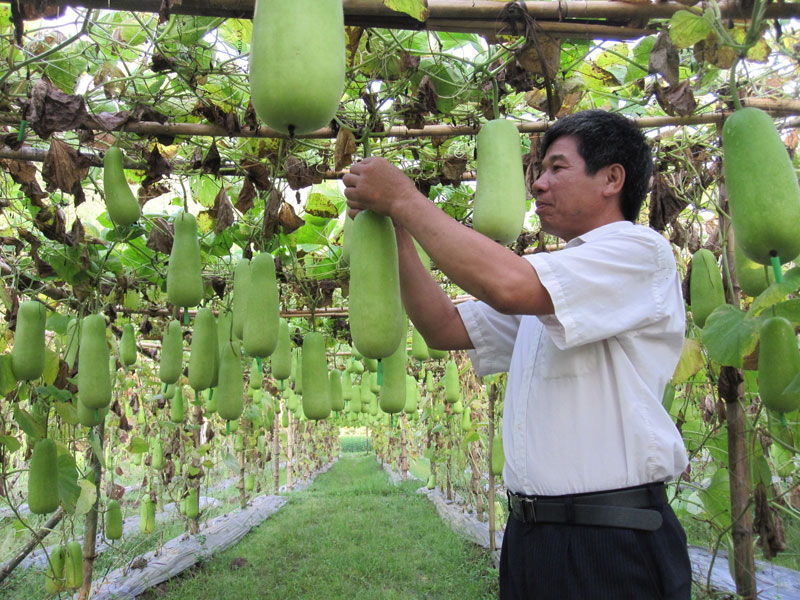 The veteran Vi Van Thin in Lau hamlet, Mai Ha commune (Mai Chau) is taking care of the garden of gourds for collecting.
Not resigning to poverty, Mr. Vi Van Thin went around to learn about production experience in many places in the district and in the province and started to plant forests, grow vegetables, combining with livestock and poultry breeding. However, in the early time the income is only average, temporarily enough for family living expenses. In 2010, he boldly borrowed money from the bank along to invest in buying breeds, expanding breeding facilities with the capital of his family. Additionally, he combined planting forests, digging ponds to raise fish and raising chickens and growing vegetables. After many years of persistence, exploring and learning in many places, getting experiences, his economic development model has given a stable income. Currently, his family has nearly 100 chickens, 12 pigs, 8 buffaloes and many kinds of crops with high economic value. Each year his family exports two litters of 2 chickens, 2 litters of pigs and 3 litters of gourds with the income of about 250-300 million VND. Mr. Thin said "My family mainly develops synthetic economy. After borrowing the budget, I have invested in developing raising livestock, growing crops, digging fish ponds, building cages for pigs, chickens and ducks and planting perennial trees. In the early days, when I started to do business due to lack of experience, scientific and technical knowledge to take care of crops so I thought I had to give up halfway."
The will and energy of the soldier helped him overcome the difficulties. He himself learned to apply scientific and technological advances to animal husbandry and production so it brought high economic efficiency. After many years, his family has built a comprehensive economic model of gardens, ponds and stables with very high economic efficiency.
Not only trying to enrich his family, he also helps other families with difficulties in trees, seedlings such as baby fish and chicken, other kinds of seeds and so on. He also disseminates the way of how to take care of plants. Thanks to the development of animal husbandry, his family now has a spacious house and a stable income, all his children have stable jobs.