(HBO) – Du Phuong is known as a hamlet with effective afforestation in Mong Hoa commune of Hoa Binh city. Its entire forestry land has now been covered with production forest.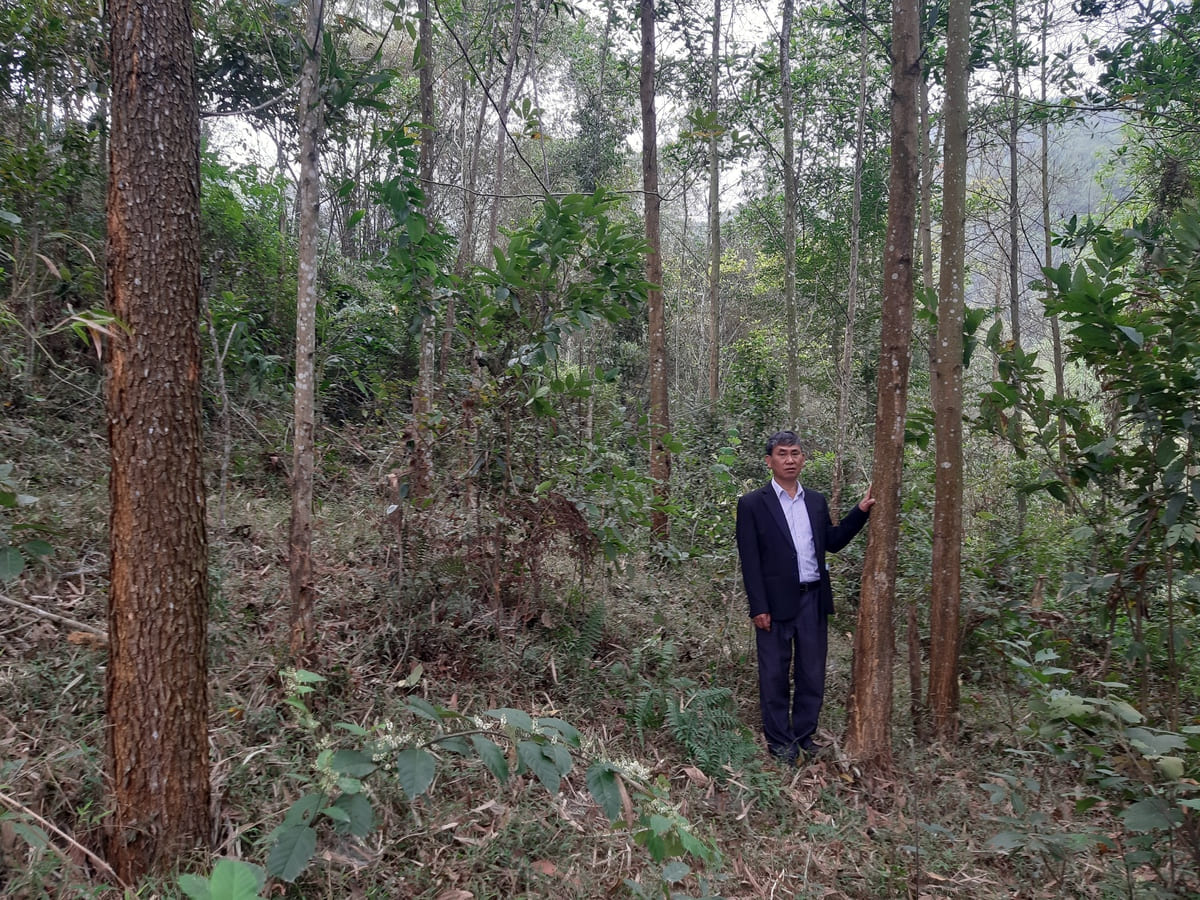 Nguyen Xuan Phong, a resident in Du Phuong hamlet of Mong Hoa commune (Hoa Binh city), examines the growth of an acacia forest.
Nguyen Xuan Phong is one of the first forest growers of the hamlet. His family's production forest now covers about 20ha, mostly acacia.
He said local soil is most suitable for planting the tree, noting that local residents began planting production forests in 2006, and the hamlet's current forest area stands at about 400ha, with some families afforesting dozens of hectares.
In recent years, locals have paid more attention to intensive afforestation and its profitability. Afforestation needs an investment of some 20 million VND (over 870 USD) per ha, most of which is spent in the first three years to cover seedling, fertiliser, and care expenses. After about seven years, growers can gain around 80 million VND per ha, with expenses included.
Intensive concentrated afforestation has proved to be the most effective economic development direction in Du Phuong hamlet at present. It has guaranteed stable livelihoods for many people and enriched a number of families with annual incomes reaching hundreds of millions of VND, according to Phong.
Mong Hoa commune was set up on the basis of the merger of Mong Hoa and Dan Hoa communes under Resolution 830 of the National Assembly Standing Committee. Covering a total area of 4,386ha, it is home to nearly 3,144ha of forestry land, including 2,200ha of production forests, almost 2,556ha of protection forests, 688.11ha of special-use forest land, and nearly 1,316ha of households and individuals' land.
Vice Chairman of the Mong Hoa communal People's Committee Nguyen Van Bo said tree planting and afforestation have become a sound tradition and a widespread movement here, attracting the participation of local sectors, organisations, schools, and communities. They have helped alleviate poverty, improve people's living standards, protect the environment, ease the consequences of natural disasters, and adapt to climate change.
For many years, a large number of practical activities have been organised in response to the tree planting festival in every spring, covering vacant land and barren hills with trees.
The commune builds plans on forest management, protection, and planting every year and always fulfills annual afforestation targets, Bo said, noting that connectivity models for planting forests under the Forest Stewardship Council (FSC) standards have taken shape in Mong Hoa.
He added that in 2021, local authorities will continue orient afforestation towards FSC standards, develop multi-purpose forestry to improve economic benefits from the planted forests, switch from harvesting young trees to large-timber ones to provide material for wood processing, replace poor-performing areas with high-yielding tree varieties, and increase planting the trees that can be used for multiple purposes.
Other concerted solutions will also be carried out to prevent forest fires, fight illegal deforestation, strictly control the change of forest use purposes and close down natural forests, and prevent, detect, and deal with any violations in a timely manner, the official said./.