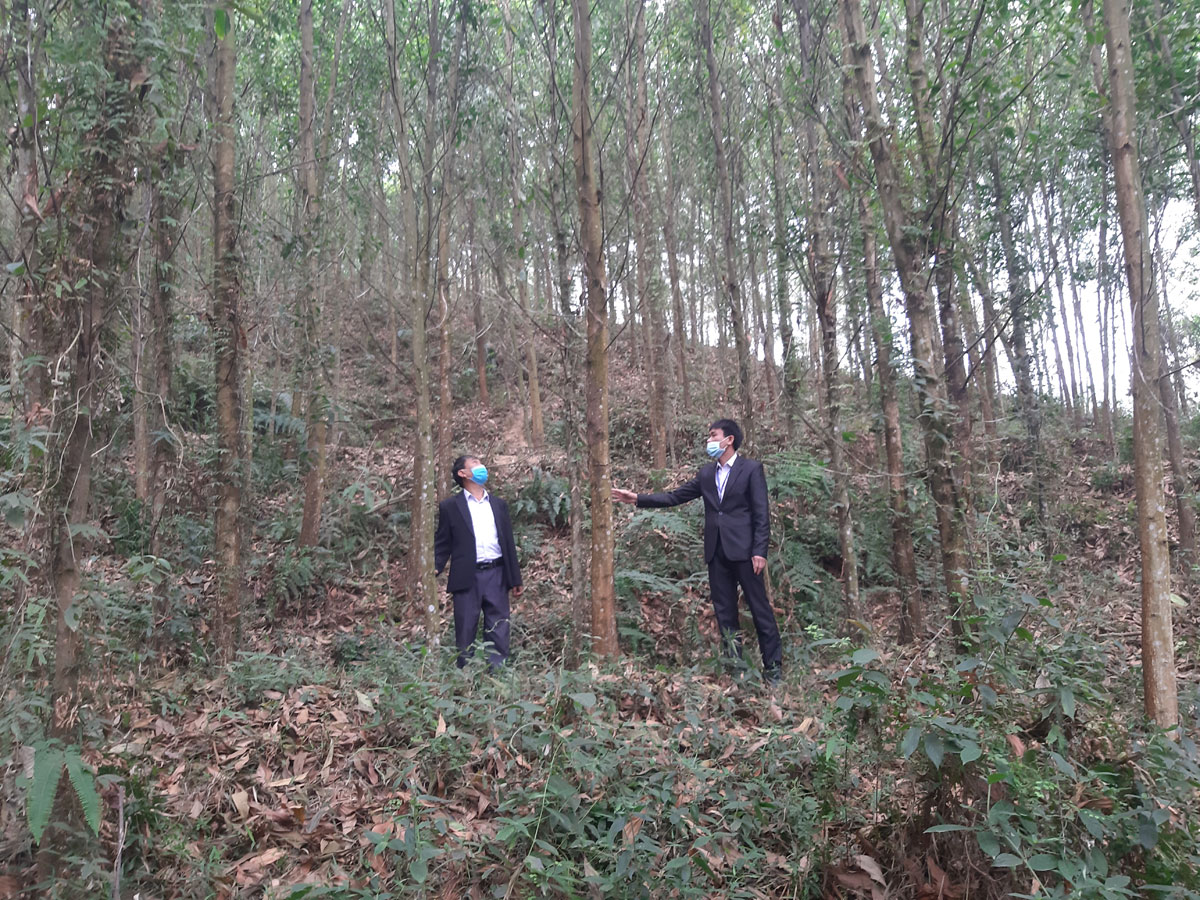 (HBO) - The Hoa Binh provincial Party Committee and People's Committee have been directing sectors and localities to build policies to support forest-based economic development towards improving productivity and efficiency, and changing forestry production practices from extensive to intensive cultivation.
The locality aims to expand the area of large timber plantation area serving the for-export processing industry, and speed up the restructuring of the forestry sector.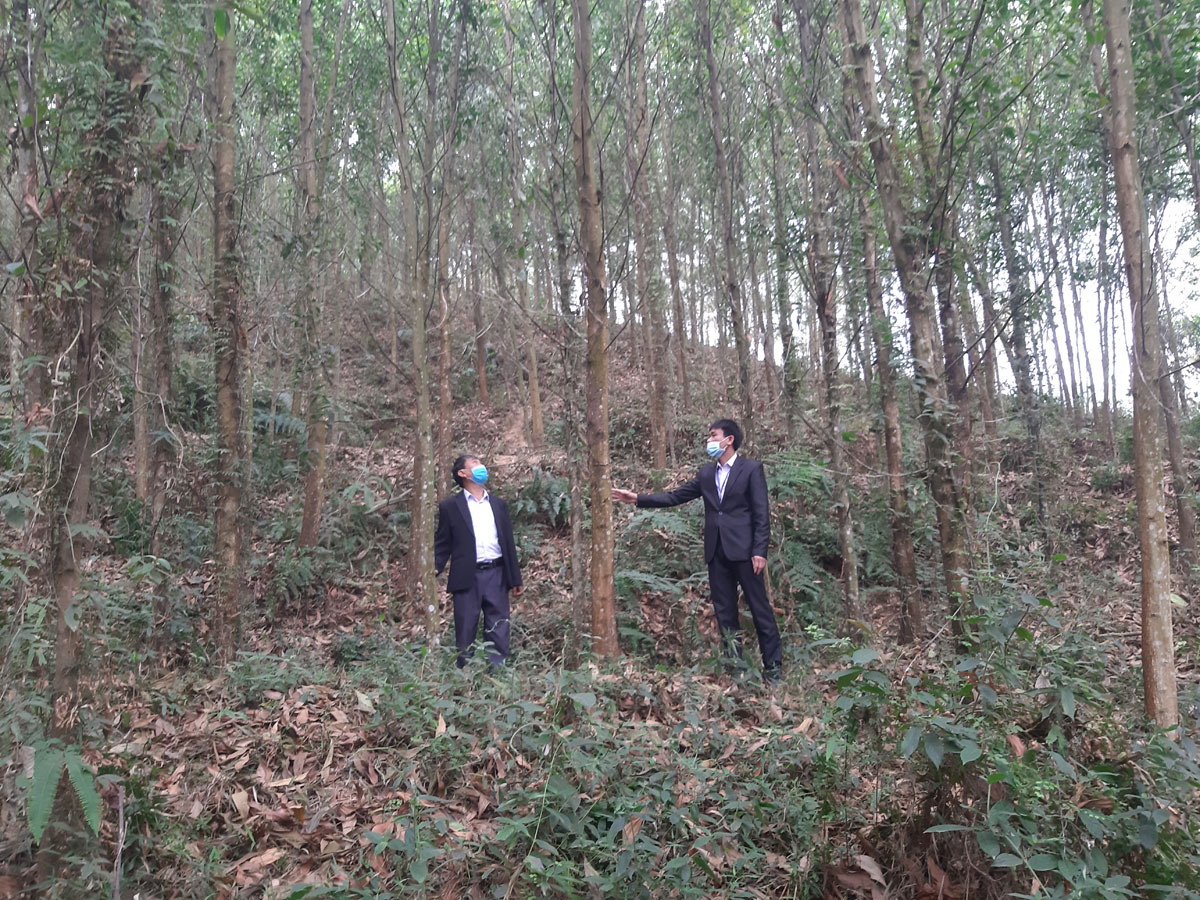 Du Phuong village in Hoa Binh city's Mong Hoa commune has over 400 hectares of production forest whichbrings high economic value for local residents.
Forest economy proves effective
According to a review of the province's planning for three types of forests in 2018, the total area of land designated for forest in Hoa Binh is 298,013 ha, of which, 149,429 ha are earmarked for production forest, including 69,321.88 ha of planted forest and 51,976.04 ha of bare land.
Hoa Binh boasts great potential for developing the forestry economy thanks to its strengths of geographical position and abundant labourers.
Deputy Director of the provincial Forest Protection Department Nguyen Xuan Truong said production forestation is considered one of economic development strategies of many localities in Hoa Binh, especially in the districts of Lac Thuy, Kim Boi, Tan Lac, and Lac Son.
In recent years, the locality overfulfilled many targets on forestation, forest management and protection. Every year, 6,000 - 8,000 hectares of production forest were planted.
A system of tree nurseries has been built and improved to better meet the need of forestry economic development towards improving quality, efficiency and value of the forestry sector, while forest owners have been provided with forest planting techniques through training courses.
Enterprises have paid attention to improving the value of their forest products, and initially converting planted forests to commercialforests.
Currently, the forest coverage rate in the province stands at 51.5 percent.
In 2020, the total income from forests and forestry land of organisations and households reached an estimated 668 billion VND (nearly 29 million USD), up 234 billion VND compared to the previous year.
The province is now home to dozens of establishments specialising in producing and processing wood products. A number of enterprises have built medium-density fibre board (MDF) processing and manufacturing factories, such as Vinafor MDF - Tan An, MDF Phu Thanh, and BWG Mai Chau.
These are the foundation for the locality to build planning of material areas, and connect planting, exploitation and processing of forest products with consumption and development of production forest.
Supporting investment in intensive forestation
According to the agricultural sector, the productivity, quality and economic value of planted forests in Hoa Binh remain lower than the national average rate.
In particular, the area of forest granted sustainableforestmanagement certificate by the Forest Stewardship Council (FSC) accounted for only 17 percent of the total area.
The locality has faced difficulties in organizing production and investment in intensive farming, and in drawing businesses to participate in the chain of production, planting and processing.
To overcome the above mentioned shortcomings, the standing board of the provincial Party Committee has issued a resolution on sustainable forest development in Hoa Binh to 2025, with a vision to 2030.
The resolution set targets of increasing the annual forest coverage rate to over 50 percent, the productivity of planted forest by 1.3 times, and the value per hectare of planted forest by 2.5 times; transforming 3,000 ha of areas of small timber plantation to large timber forests; and having 50 percent of forest areas granted FSC certificates.
Over 90 percent of production forest area in Hoa Binh will be large timber plantation area and commercial forests by 2030, while over 80 percent of the area of production forest will be certified by FSC.
Forestry is expected to account for 20 percent of the proportion of agriculture, forestry and fishery sector.
Recently, the Provincial People's Committee has issued a project on sustainable development of production forests for the period to 2025, with a vision to 2030.
Accordingly, the locality will take measures to raise public awareness of the importance of forestation and improve the effectiveness of forest management, while implementing policies to support the development of intensive forestation and large wood forests, and improving the capacity for forest farmers.
It also focuses on developing multi-function forestry, changing product structure from exploiting young wood and producing wood chips to exploiting large timber in order to create concentrated material areas to meet the demand of the wood processing industry, thus improving economic efficiency of planted forests towards contributing to the locality's economic growth and protecting the environment.
Truong said the provincial Party Committee and People's Committee have clearly defined the importance of sustainable forest economic development, noting that the resolution of the provincial Party Committee and the project on sustainable forestry development of the provincial People's Committee are in line with the forestry sector's development trend, and the country's green and sustainable development orientation.
When a large material area with good quality is formed, it will help attract more businesses to join a chain of industrial and natural wood products production and processing with high added value, thus boosting exports to the US, Japan and European markets, he said./.
By Le Chung