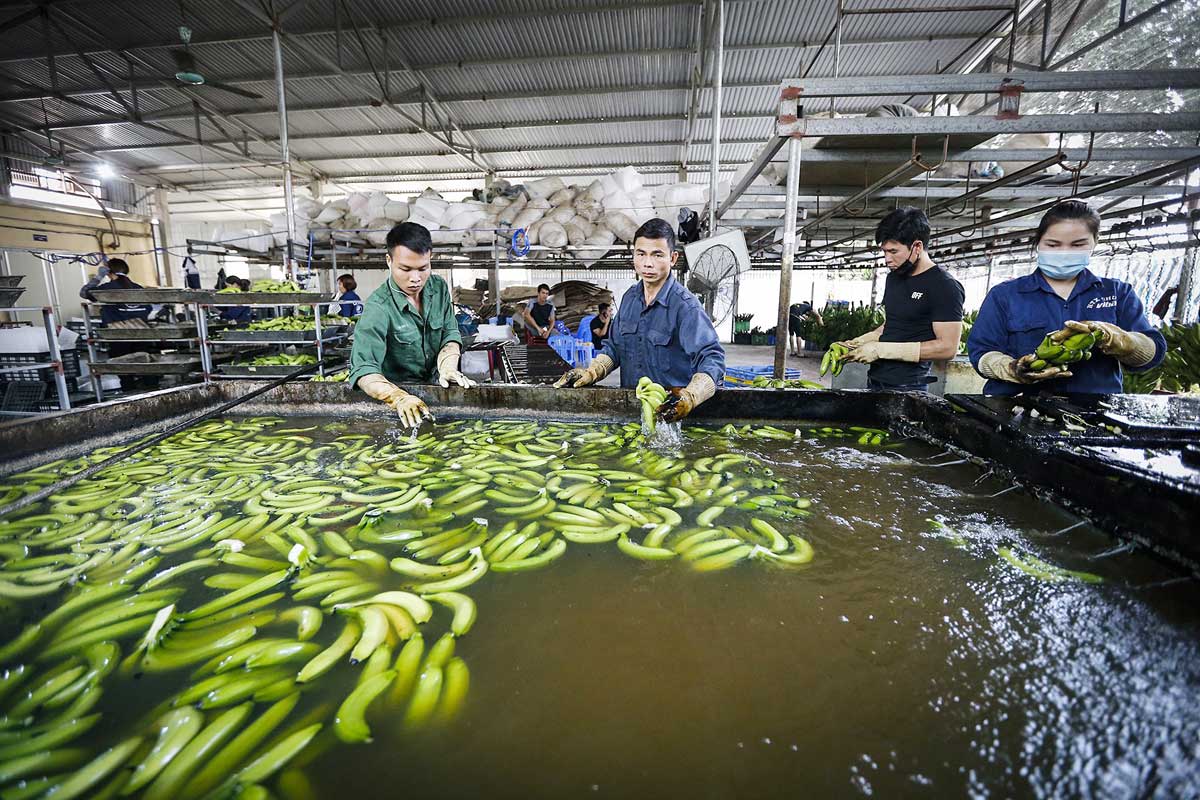 (HBO) - A number of new agri-business models have proved effective thanks to Hoa Binh's policy to develop agriculture towards a higher value-added and more sustainable sector over the last five years.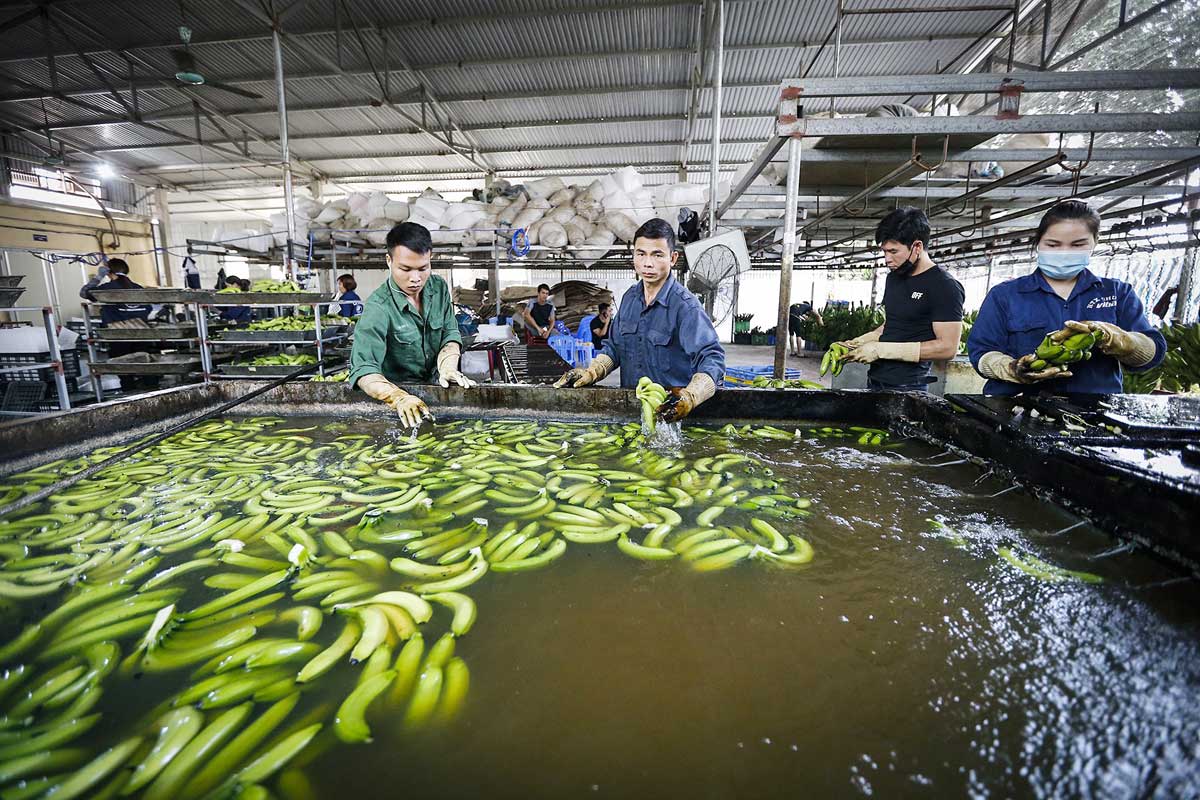 Production at Viba banana cooperative in Lien Son commune, Luong Son district.
One of the models is Viba banana cooperative owned by a local young entrepreneur, Tran Trung Duc, in Lien Son commune, Luong Son district. The cooperative cooperates with banana farms in the neighbouring districts of Lac Thuy, Tan Lac and Hoa Binh City to cultivate banana under the Vietnamese Good Agricultural Practices (VietGAP) standards.
Duc said the cooperative has a 1,000-sqm workshop for post-harvest processing which comprises three high-tech banana ripening rooms, capable of handling about 5 tonnes of banana per day. Inside these rooms, ethylene, a natural and safe gas, is used to ripen banana without producing harmful effects on human.
The bananas are processed and cleaned under standards from the United States. The products also received food safety certificate from the Ministry of Agriculture and Rural Development.
Verified as a three-star-rated "One Commune, One Product" (OCOP) product by the provincial People's Committee, Viba banana is now available in various supermarket chains in Hanoi and other northern cities and provinces and served on Vietnam Airlines flights. In 2019, Vietnam Airlines signed an agreement with the cooperative to purchase 200 kg of banana on a daily basis.
The cooperative's output reached 1,000 tonnes per year while it generates more than 9 billion VND in revenue and 196 million VND in profit per hectare annually. It now employs over 50 local workers.
There are many other successful agri-business models in Luong Son, such as Luong Son organic vegetables, Tan Thanh Dien pomelo, Thuan Phat chicken and goat.
Hai Dang Co., Ltd., meanwhile, is farming 190 fish cages on Hoa Binh Reservoir, following strict food safety standards. The company has developed its own supply chain with warehouses and a distribution network across hotels and restaurants in the northern region, particularly Hanoi.
Though the COVID-19 pandemic has affected its fish farming on Hoa Binh Reservoir, this model has potentials to develop sustainably in the long term, said Nguyen Van Toan, a representative from the company.
The province has adopted various policies to support the development of the agriculture towards a higher value-added and more sustainable sector in tandem with new-style rural building.
It has established intensive-farming areas of high-yield fruits, instead of conventional ones. The province is now home to about 2,500 hectares of safety-verified fruit farming areas.
The province has so far developed 71 provincial-level OCOP products, for example Lac Thuy goat, Lac Son chicken, Cao Phong orange and Tan Lac chayote, which have helped improve local income.
Over the last few years, the local agriculture industry has been effectively restructured towards increasing shares of husbandry, forestry and fisheries. The province has also accelerated the production of more profitable crops and the development of large-scale farms and value chains.
Average earning per hectare of farming land reached 128.4 million VND. Last year, the local agriculture grew by 4.35 percent. The province was also among the region's best performers in new-style rural building.
In the coming years, the province plans to continue sustainably and effectively developing agriculture in tandem with expanding the market, growing the processing and tourism sectors, protecting the environment and adapting to climate change.
The province will also expand hi-tech and smart agriculture and organic farming while facilitating the development of forests to supply materials for processing and accelerating the process of land concentration so as to attract investment in the field. It will further promote value chains and the cooperative economy. The agriculture, forestry and fisheries sector will strive for a growth rate of 4.5 – 5 percent annually./.