(HBO) – Shan Tuyet tea trees have been associated with people in Trung Thanh commune, Da Bac district, Hoa Binh province, since the 1980s. The trees once grew into forests and had not been served mass production. Ancient tea trees were once chopped down and replaced by maize and cassava.
Since 2006, the Phuong Huyen Company has engaged in the province's poverty reduction project by providing tea varieties for residents in the commune whose soil conditions favour the trees. Over the past five years, more than 40 ha of tea in the locality have offered regular harvests.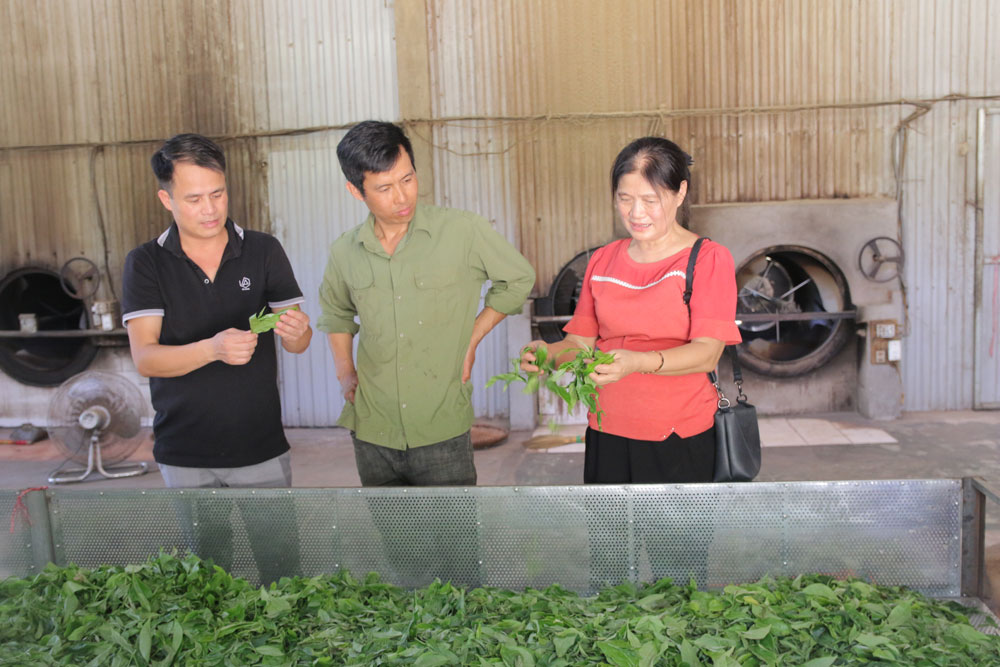 Nam Phuong tea cooperative in Trung Thanh commune, Da Bac district, purchases selected tea buds to produce high quality tea products.
Trung Thanh commune has been considered the land of tea in Da Bac district for many years and the locality has regarded tea as the key tree in hunger elimination and poverty reduction.
Established in late 2019, the Nam Phuong tea cooperative has basically helped to deal with market-related difficulties and paved the way for the commune to build its Trung Thanh Shan Tuyet tea brand.
Following VietGap standards, tea products of the Phuong Huyen Company have dominated the market and found favour among consumers.
Although the commune is home to more than 70 hectares of Shan Tuyet tea, there are only a handful of ancient trees.
Ha Van Thuc's family in Bua hamlet owns three of the ancient trees, along with around 5,000 sq.m of tree.
"Shan Tuyet trees need investment for only one time, while allowing harvests for more than 50 years," he said. "Therefore, many residents in Bua hamlet have engaged in tea growing. They have made the best use of hills and forests to grow the tree."
Trung Thuong is one of the two hamlets cultivating the largest area of tea in the commune, exceeding 20 ha.
Tea trees offer higher economic values as compared with other crops, and require less hardship. Moreover, they play a significant role in erosion prevention.
The family of Ha Van Nam, Director of the Nam Phuong tea cooperative, is one of the households having the largest area of tea in Thuong hamlet, with more than 4,000 sq.m.
Nam said tea trees bring about economic value two times higher than that of rice and three times higher than maize.
Since the Phuong Huyen Company has invested in machinery and provided technical assistance for Nam Phuong, the cooperative has purchased fresh tea buds from local residents.
The cooperative is now churning out two types of tea, with prices ranging from 6,000-12,000 VND per kg.
Ha Van Lan, Chairman of the communal People's Committee, said each ha of tea tree yields 7-9 tonnes of fresh tea buds. The commune's total output stands at more than 300,000 tonnes.
According to a study by the People's Committee, more than 50 ha of hills and gardens in the locality would be used to grow Shan Tuyet tea trees that have proven to match local potential and advantages, helping locals in economic development and escape from poverty.
To ensure the stable and sustainable development of the trees, agencies and sectors should pay more heed to varieties, capital, technologies, planning, material area building, machinery, equipment and brand building.
The commune expects to raise the tea area to more than 100 ha, and propose the district provide finance for developing the Trung Thanh Shan Tuyet tea brand as a OCOP product./.