(HBO) - Although Hoa Binh province's provincial competitiveness index (PCI) in 2021 dropped significantly in rankings and scores, many businesses and investors believed that this challenge was also an opportunity for the provincial authorities and its departments, sectors and localities to review and evaluate weaknesses and shortcomings, and carry out drastic measures to create a breakthrough in improving the investment environment and enhancing the province's competitiveness in the coming years.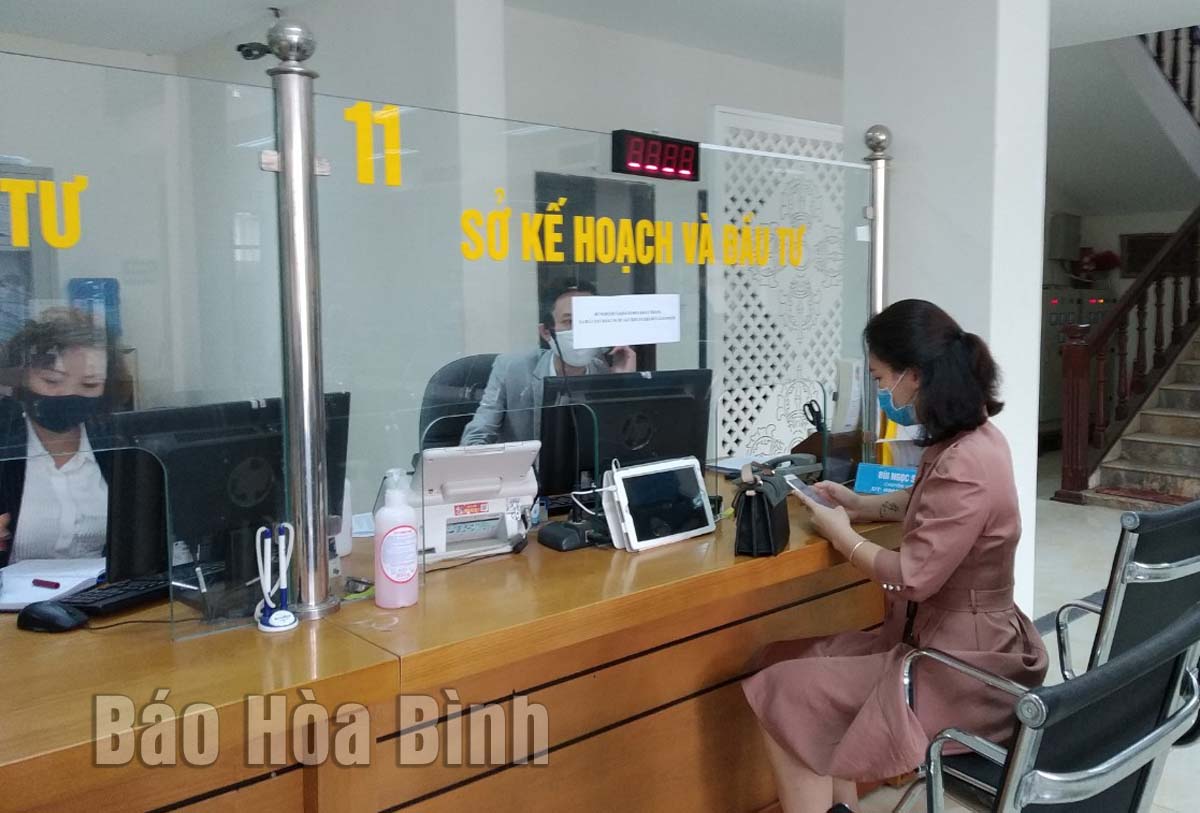 Many organisations and individuals wish that the Provincial Public Administration Service Centre will improve its operation quality to facilitate the settlement of administrative procedures.
According to the provincial Business Association, over the past time, enterprises and investors in the province have appreciated efforts of administrations at all levels and sectors, especially the drastic direction of the provincial Party Committee and People's Committee in bettering the business and investment environment and facilitating enterprises' operations. The province has also paid attention to removing difficulties and obstacles facing businesses and investors, especially measures to support businesses during the COVID-19 pandemic. However, the 2021 PCI ranking of Hoa Binh remains low, which was a "shock" for not only the province but also many businesses and investors.
The fact showed a surge in the number of investors to the province has been causing difficulties related to land. Access to land and site clearance are always the biggest "bottleneck" which causes the most frustration because it takes a long time, thus leading to the loss of investment opportunities. Therefore, businesses showed their wish that the provincial People's Committee will pay attention to and drastically direct the ground clearance for investment projects; take measures to monitor planned areas and those being researched, surveyed and deployed by investors so as not to put more pressure on businesses and investors in compensation for site clearance.
Ha Trung Nguyen, Vice Chairman of the provincial Business Association, said that unofficial costs are also a concerning issue. The provincial 2021 PCI analysis report showed that the percentage of enterprises reporting that they have to pay unofficial costs for inspectors has not improved much compared to 2020, hitting 45 percent, making Hoa Binh rank 61st out of 63 provinces and cities.
Therefore, he proposed the provincial People's Committee impose sanctions to strictly handle and rotate jobs for irresponsible officials and civil servants who cause difficulties and troubles for people and businesses.
Nguyen also suggested conducting inspection once a year, and punish agencies and individuals that carry out inspections without reporting and having an annual inspection plan.