(HBO) – Authorities of Luong Son district has been tasked with mobilising resources for building the town-level administrative unit infrastructure by 2025.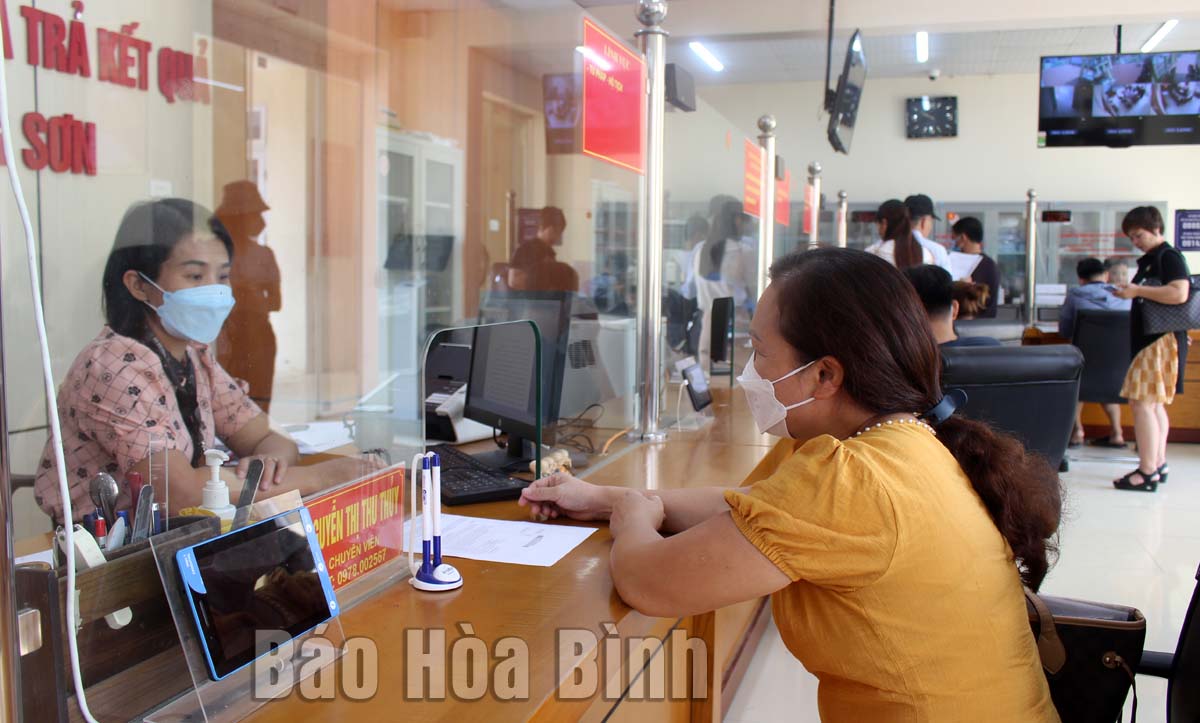 Processing administrative procedures at the district's division of receiving and returning results.
This is one of the two groups of key tasks assigned by Chairman of the Hoa Binh provincial People's Committee to the Luong Son administration in 2022.
By the end of September, the district has completed five out of the 21 targets in the work, including approving the adjustment to the master plan on building Luong Son town and the expanded area to 2035, with a vision to 2045; building plans for land clearance and handing over the site to investors in accordance with the list of housing projects attached to Plan No. 5144/KH-SXD dated on December 27, 2021; implementing the project of Tran Hung Dao street to Luong Son district's centre; starting the project to build a road connecting National Highway 6 to Nhuan Trach Industrial Park; and providing online public services at level 3-4.
The project from Tran Hung Dao street to Luong Son district's centre is one of the four breakthrough tasks that the district has completed.
Construction of the project commenced on April 28. The work volume has so far reached 30% of the contract value.
The district People's Committee is focusing on directing and organising the implementation of the 16 remaining targets.
In the remaining months of 2022, local authorities will work to speed up the land clearance for projects and build resettlement areas, towards completing the remaining targets in the task group of mobilising resources for building infrastructure of town-level administrative units.
It will also accelerate the process for auction projects of houses on both sides of Bui River (the first phase), and the right to use land in Cau Son hamlet, Nhuan Trach commune.
Attention will be also paid to speeding up the progress of a number of projects in Lam Son and Cao Son communes./.