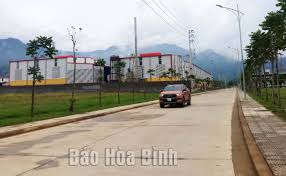 (HBO) – Developing industrial parks and clusters to attract investment will greatly help create jobs, raise income for workers, guarantee social security, and boost socio-economic development. Mindful of this, the Hoa Binh provincial Party Committee and People's Committee have paid great attention to the issue. The province is striving to expand the area of industrial parks and clusters to about 1% of its total area - a target set in the resolution of the 17th provincial Party Congress.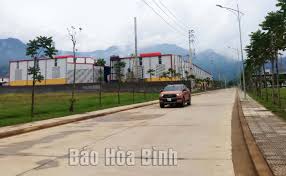 Technical infrastructure of the Tien Tien industrial cluster in Quang Tien commune, Hoa Binh city, has been developed rather comprehensively and attracted secondary investors.
According to the initial planning, Hoa Binh province would have eight industrial parks with a total area of over 1,500ha. Basing on demand and implementing the 17th provincial Party Congress's resolution, the provincial People's Committee ordered a survey be conducted in some localities with investment attraction potential. Authorities have agreed to add four industrial parks covering 1,493ha in Yen Thuy, Lac Son, and Da Bac districts to the provincial planning for 2021 - 2030, with a vision to 2050.
That has raised the number of planned industrial parks in Hoa Binh province to 12 with a total area of about 3,000ha. Besides, 21 industrial clusters covering 866,605ha have also been planned.
To boost technical infrastructure development and the occupancy in industrial parks and clusters, the provincial People's Committee set up a steering board for infrastructure development in those zones. This board has held quarterly or sporadic meetings to devise solutions to difficulties facing infrastructure and secondary projects in industrial parks and clusters.
As of August 2022, nearly 1.25 trillion VND (50.2 million USD) was spent on developing industrial park infrastructure, including 227.8 billion VND from the central budget, 354.1 billion VND from the local budget, and 667 billion VND from investors.
Local industrial parks attracted 104 projects, including 26 FDI ones worth 514.8 million USD (respectively accounting for 66.7% and 83.5% of the total in Hoa Binh) and 78 domestic ones worth nearly 13.6 trillion VND.
In 2021, businesses based in industrial parks earned nearly 18.19 trillion VND in revenue and 690 million USD from exports, equivalent to 44.36% of the province's total industrial production value and 56.6% of the total overseas shipments, while contributing 250 billion VND to the State budget.
In the first nine months of 2022, they raked in about 15.4 trillion VND from production and business activities, up 24% year on year, and created jobs for some 20,100 people.
From 2014 to 2022, local industrial clusters attracted 25 investment projects, raising the total to 28 with combined capital of almost 2.6 trillion VND. This year, they provided jobs for about 1,300 people and generated an estimated industrial production value of 1.7 trillion VND./.