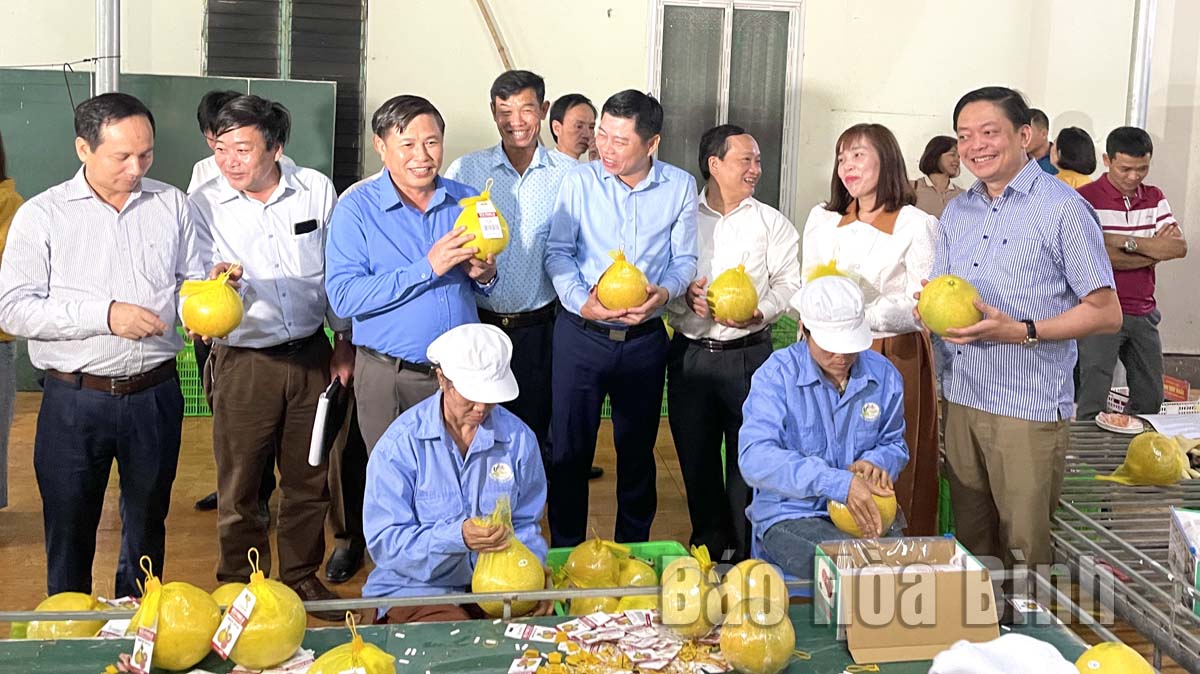 (HBO) - On November 24, in Tan Lac district, the Department of Agriculture and Rural Development collaborated with the People's Committee of Tan Lac district and FUSA organic agriculture joint stock company to hold a ceremony to export the first shipment of Tan Lac red pomelo to the UK marketAttending the shipment ceremony were Mr. Dinh Cong Su, thre Vice Chairman of the Provincial People's Committee attended the shipment ceremony.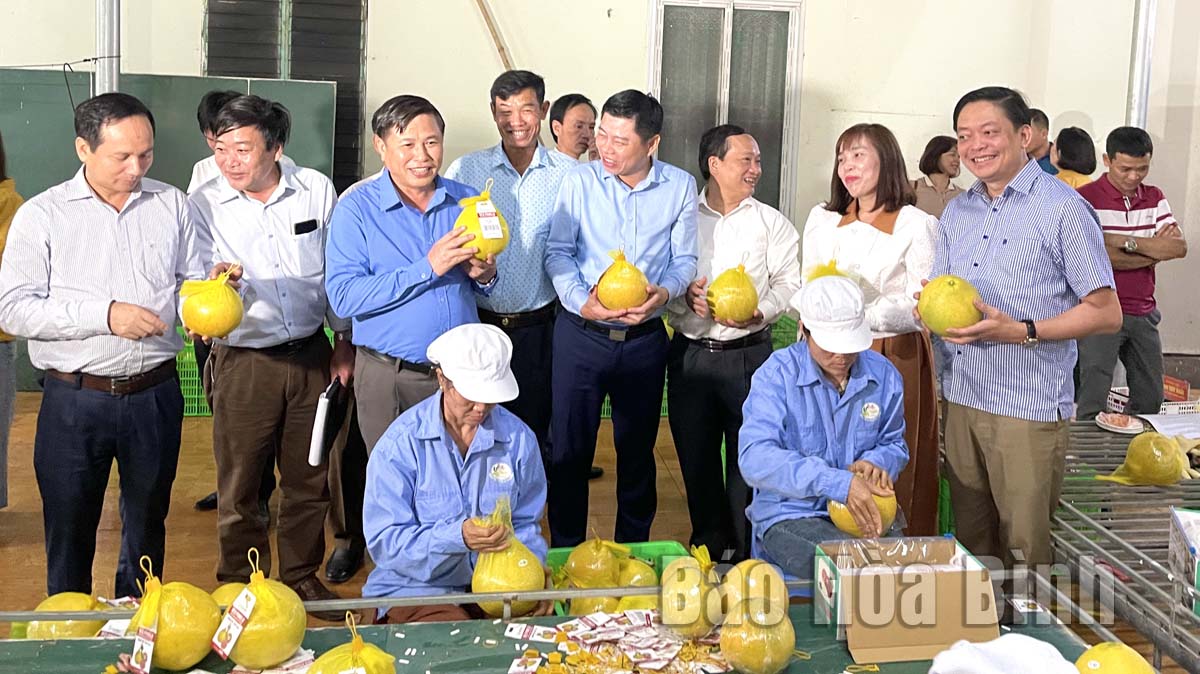 Mr. Dinh Cong Su, the Vice Chairman of the Provincial People's Committee and the representatives of the appropriate branches and specialized units checked the quality of Tan Lac red pomelo before they were exported.
In 2017, the National Office of Intellectual Property issued a trademark certificate for Tan Lac red pomelo. Up to now, the total area of red pomelo in the province is about 2,600 hectares. In which, there are 240 hectares of red grapefruit certified organic VietGAP in Tan Lac alone. In particular, there are 6 planting area codes according to the export standards to the EU, which are granted to 140 hectares of concentrated planted red pomelos, the planting areas are strictly monitored for the diseases and cultivation and the disease prevention by the producers. On November 23, all 6 red pomelo samples met the technical requirements of 821 food safety inspection criteria as required by the EU and the UK. At the same time, the product is also recognized by the Vietnam Plant Quarantine Agency as not being infected with the plant quarantine objects of the importing country.
The first shipment of Tan Lac red pomelos exported to the UK market has a total quantity of over 7 tons, produced by the members of Tan Lac Red Polemo producing, processing and consuming cooperative in hamlet 3, Tu Ne commune. They were packaged and shipped to the export market by FUSA Organic Agriculture joint Stock Company.
At the ceremony, Mr. Dinh Cong Su, the Vice Chairman of the Provincial People's Committee said that this was the initial success from the efforts of the people along with the support of the authorities and professional agencies at all levels. Over the past years, Tan Lac red pomelo products have overcome difficulties in cultivation and strict technical requirements to succeed in conquering the UK market.
The Vice Chairman of the Provincial People's Committee suggested that the Agriculture and Rural Development sector coordinate with other sectors to continue developing red pomelo trees according to the planning and method, increasing the application of science and technology in production to improve the quality and value of the product. The pomelo growing cooperatives work more closely with the appropriate sectors, units and farmers to organize production and packaging in chains to meet the needs of consumers in many markets...