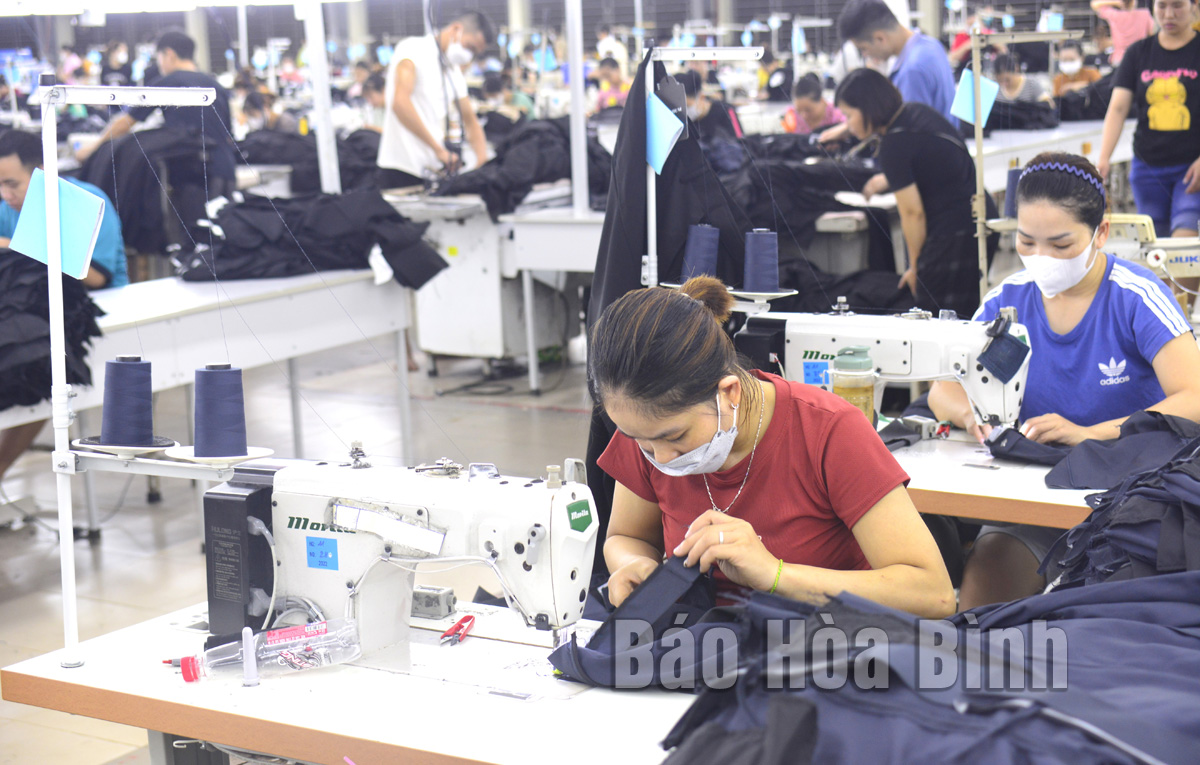 (HBO) - It is forecast that by 2025, there will be three criteria that are difficult to achieve in line with the Resolution of the 17th provincial Party Congress for the 2020-2025 tenure, namely economic growth, State budget collection and gross regional domestic product per capita. Thus, relevant agencies advise the provincial administration to focus on solutions, aiming to speed up the disbursement of investment capital, support key projects, and create a driving force to obtain 9% growth rate for the remaining time of the tenure.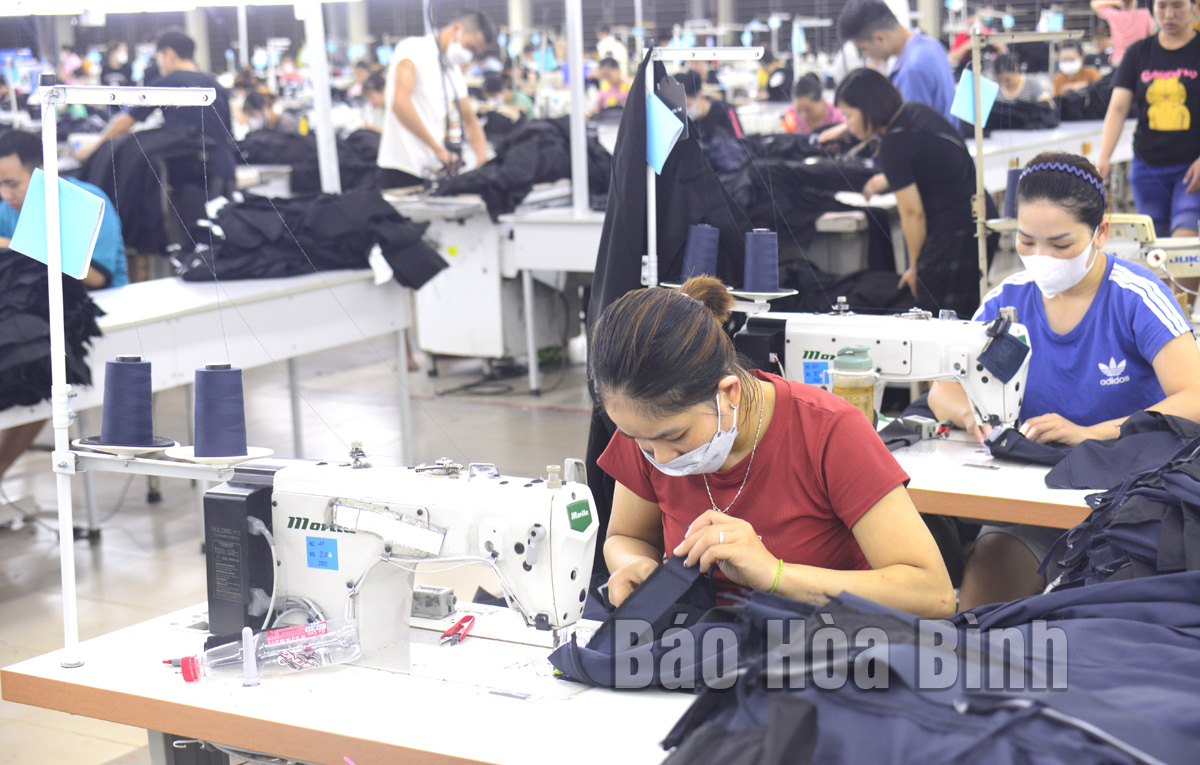 Photo:Ho Guom Garment Company, Phong Phu Commune (Tan Lac district) operates effectively, creating jobs for hundreds of local workers.
Given the difficult context, the gross regional domestic product growth rate didn't reach the set target. It stood at 2.86% in 2021, lower than the growth rate of 3.7% in 2020 and it reached 9.47% last year.
The province's GRDP growth expanded by only 0.73% in the first six months of 2023 and it is expected to be 3.87% for the whole year. The average growth rate for the three years reaches 5.4% on average.
To achieve the GRDP growth target of 9% per year or more, it is necessary to have an average growth rate of nearly 15% in 2024 and 2025.
The province's State budget revenue was not high, reaching 5.6 trillion VND and 5.2 trillion VND in 2021 and 2022, respectively. It stood at 1.8 trillion VND in the first half of 2023, equivalent to 36% of the year's estimate and 73% compared to the same period last year. Total budget revenue for the half tenure reached 12.7 trillion VND, thus, the target of 10 trillion VND by 2025 is a big challenge.
As of June 30, the province disbursed a total of 7.8 trillion VND of public investment, meeting 40.58% of the year's target while the public investment plan assigned for the 2021-2023 period is 19.2 trillion VND.
Regarding investment attraction and business development, from 2021 to June 2023, the province decided to approve investment for 138 projects with a total registered capital of over 85 trillion VND. They include a number of large projects, notably the Xuan Thien Cement Factory project which churns out 10 million tonnes of products per year and a total investment capital of 29.8 trillion VND.
Hoa Binh decided to terminate the operations of 54 projects, creating opportunities for other investors to research and survey. By June of this year, there were 734 investment projects in the locality with a total registered capital of nearly 202 trillion VND.
Over the past two years, there were 1,152 newly-registered enterprises with a total registered capital of nearly 28.4 trillion VND and 302 businesses resumed operation. As of June 2023, there were 4,468 businesses with registered capital of 73.5 trillion VND.
At a conference that was held to review mid-term operation of the provincial Party Organisation, the provincial Party Committee proposed 14 groups of solutions, which detailed special tasks for economic development, attracting investment and developing businesses.
According to Nguyen Van Phuc, Deputy Director of the provincial Department of Planning and Investment, in addition to completing the planning with a vision to 2050 and submitting it to competent authorities for approval, it is necessary to focus on drastic solutions to accelerate public investment disbursement and improve business environment.
The province has so far disbursed 7.8 trillion VND, so from now until the end of 2025, it will have to disburse 22.8 trillion VND, equal to 74% of the medium-term public investment capital plan for 2021 - 2025.
To this end, it is essential for the province to focus on directing specialised agencies to speed up and improve the quality of project preparation and appraisal, he said.
Attention should be paid to solving problems in site clearance and strengthening inspection as well as speeding up the disbursement of public investment capital and flexibly adjusting capital plans between projects.
It is a must to select investors who have the capacity to implement projects with spillover effects, greatly contributing to promoting economic growth and state budget collection in the locality, Phuc said, adding that projects that are behind schedule should be revoked.