(HBO) - Tan Lac district focuses on directing and urging agencies to speed up the progress of important projects that have a big impact on promoting economic restructuring and improving people's lives.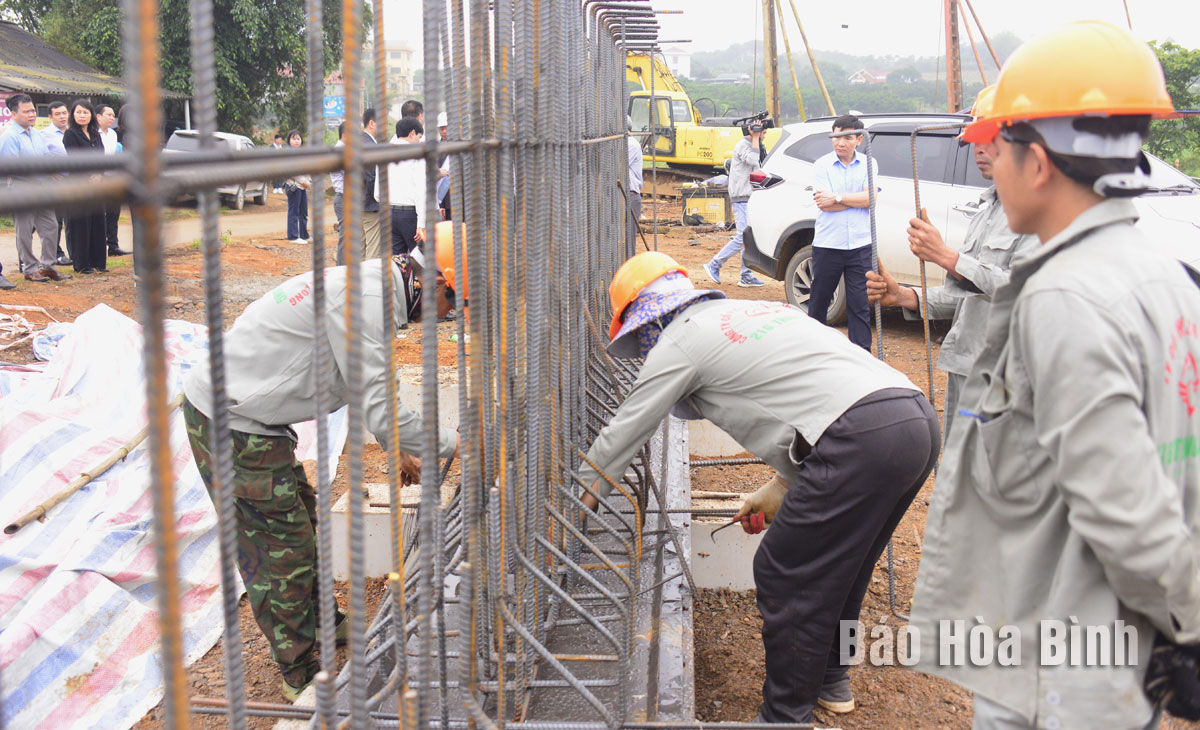 Workers are building a viaduct located in My Hoa commune (Tan Lac district), part of Ngoi Hoa-National Highway 6 road project.
The provincial People's Committee has decided to lease 6.5 hectares of land to Supertex - Tan Lac knitting factory project.
The Tan Lac district People's Committee actively coordinated with relevant agencies to support investors in completing the necessary procedures to put the project into operation as planned. The investor has devised a detailed construction planning of 1/500 scale which has been approved by the local administration. It is carrying out environmental impact assessment as well as related procedures. Once the factory is put into operation later this year, it will create jobs for about 1,300 local workers.
The Ngoi Hoa - National Highway 6 road project will help promote socio-economic development in the region and develop tourism in the Hoa Binh reservoir area. The total investment for the 14.86km project is estimated at 305 billion VND (12.7 million USD). The construction of the project began at the end of 2022 and is scheduled to be finished in 24 months.
The project will connect National Highway 6 with Road 435 with the Tan Lac district's Construction Investment Project Management Board and Land Fund Development being its investor.
Dinh Duy Khai, Vice Chairman of the Tan Lac District People's Committee, said that local administration focuses on directing site clearance work and removing obstacles to speed up the project's progress.
The district coordinates with specialised agencies of the province to complete procedures related to the conversion of forest and land use purposes and other contents. Contractors are urged to carry out construction at locations that already have been cleared while authorities of Phong Phu, My Hoa and Suoi Hoa communes are asked to mobilise people to hand over land for project implementation.
Regarding the Hoa Binh reservoir resort and eco-tourism project in Suoi Hoa commune, 79.4% of the land for the project has so far been cleared. The district has requested the Lac Hong Investment JSC – the project's investor – to work with other agencies to quickly finish the site clearance work.
The district People's Committee also coordinated with relevant units to remove difficulties relating to site clearance for other projects including V'Star - Ngoi Hoa eco-tourism area (Suoi Hoa commune) and Ho Guom - Song Da eco-tourism area (Suoi Hoa commune).